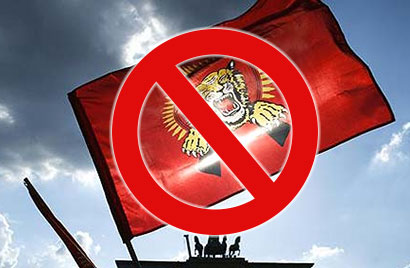 GOSL has officially declared 16 organizations operating overseas as LTTE fronts and named over 400 individuals for their support of LTTE terror. The list gazetted in April 2014 declares the leaders of the 4 key factions. Father Emmanuel head of Global Tamil Forum, Rudrakumaran of US based TGTE, Vinyagam based in Brussels and Nediyavan operating from Norway. The last group is the most dangerous and is attempting to oust others by placing their own as heads of the other groups. The hold that the faction has over funds is noteworthy and requires the GOSL to use every diplomatic means to seek the arrest of Nediyavan and extradition to Sri Lanka to be charged for criminal and terror acts.
Perinbananayakam Sivaparan / Nediyavan
Born: 28 August 1976, Vaddukoddai
Schooling: Jaffna Hindu College, Kittu Political College
Joined LTTE: 1994
Based : Norway
Offices in Europe, Canada, Australia, New Zealand and India (Tamil Nadu)
Role: International Coordinator of International Secretariat of the LTTE and managed LTTE fronts and LTTE branches worldwide, directed political and economic activity and limited procurement, demonstrations
Nediyavan reported to Castro (Veerakulasingham Manivannan) at the International Coordinating Centre (now dead)
Nediyavan faction operates through the offices of the Tamil Coordinating Committee (TCC)
Maried: 30 Oct 2005 in Wanni to Sivagowri Shanthamohan a niece of LTTE leader Lala Ranjan of Koyathotan, Jaffna. Lala Ranjan was a founder member of LTTE and trained in India and died in 1984.
Nediyavan Faction is also known as the Tamil Eelam Peoples Alliance (TEPA).
Nediyavan is accused of
Carrying out demonstrations using LTTE flags
Authorizing attacks against Sri Lankan diplomatic missions in Oslo
Authorizing attacks against Sinhalese communities overseas
Keeping tab on foreign nationals of Tamil ethnicity (In 2000, Rajasingham Jayadevan, UK citizen and trustee of a London kovil was detained in Vanni for 2 months demanding the kovil be given to LTTE)
Coerced foreign nationals of Tamil ethnicity to contribute funds or face punishment.
A member of LTTE delegation 30 Oct 2002, 28 July 2004, 10 March 2005 and 8 Nov 2005.
Included in the 14 member LTTE delegation which visited EU countries from 29 Sept – 2 Nov 2004. During this period he headed recruitment to Tamil Youth Organization – where training was first given in Vanni and then members were sent back to Europe on foreign passports.
Funded an air ticket of American Congressman Danny Davis to Sri Lanka 2005.
LTTE`s  propaganda website Tamilnet operated from Norway is said to be controlled by Nediyavan group while Sreetharan operates it from Bethesda, Maryland, USA.
LTTE`s ideologue, the Late Anton Balasingam`s helper Jeyachandran well known as Jeya has taken control of the website
Arrests/Questioning/Acts of violence
Involved in using Tamil gangs against ordinary Tamils and former LTTE supports across Europe. – clash between Nediyavan faction and rival reported at Kovil festival in Oslo 7 August 2010
Dutch government questions Nediyavan after requesting Norway police to arrest Nediyavan in 2011. The Dutch launched an investigation on the LTTE codenamed "Operation Koninck" and have found the money trail to Norway. LTTE members have revealed that money raised by tigers in Netherlands is sent to Nediyavan in Norway
In March 2014, the Sri Lankan defense with the cooperation of Iranian and Malaysian authorities accomplished renditioning of a LTTE leader Subramaniam Kapilan alias Nanthagopan. He and Aravindhan (Irumporai) are 2 deputy leaders of the Nediyavan group. Nandagopan operates from South East Asia (though wife and 4 children live in Germany) while Irumporai operates from Europe (and holds a New Zealand passport and is based in German). Nanthagopan was registered as a 'refugee' under UN HCR Thailand.
Clashes within overseas LTTE
Differences between TGTE led Nediyavan to form 'democratic PTGT' against Rudrakumaran (Provincial Trannational Government of Tamil Eelam) breaking TGTE vote base.
Nediyavan had tried to kidnap an Australian citizen in Oslo, who was running a global TV station known as GTV. Nediyavan had met him in Oslo and asked him to hand in millions of dollars turnover made by GTV and in addition to property he owned in Australia.
Camouflaging the LTTE
LTTE's 'Voice of Tigers' was changed into 'Voice of Tamil' but with the same logo by LTTE
Nediyavan established the International Council of Eelam Tamils (ICET) of which members were:
National Council of Canadian Tamils – Canadian branch of Nediyavan faction/TEPA. NCCT President is Ranjan Sri Ranjan who has been lobbying in Geneva against Sri Lanka. He was also President of Canadian Tamil Congress.
Swiss Council of Eelam Tamils
Norwegian Council of Eelam Tamils
Maison du Tamil Eelam, France
Country Council of Eelam Tamils, Germany
Italy Council of Eelam Tamils
Dutch Tamil Forum
Danish Tamils Forum
Tamil Cultural Organisation – Belgium
British Tamils Forum
Tamil Youth Organisation – New Zealand
The connections
Nediyavan Faction is represented in Canada by NCCT whose President Ranjan Sri Ranjan was also President of Canadian Tamil Congress
M K Sivajilingam, TNA MP is a relative of Prabakaran
Krishna Saravanamuttu of NCCT is also the spokesperson for ICET, International Council of Eelam Tamils established by Nediyavan
Nediyavan Faction works closely with US Tamil Political Action Council
Nediyavan faction also works with lankai Tamil Sangam (US based) and Tamils Against Genocide (TAG) to pursue criminal and civil litigation against Sri Lankan officials.
GTV Nediyavan had met him in Oslo and asked him to hand in millions of dollars turnover made by GTV and in addition to property he owned in Australia.
Nediyavan has started a new television channel on 3 July 2010 'Tamil 24th' through Belgium satellite services. LTTE`s head of fund raising in the UK Rupert Soosaipillai known as Thanam has taken control of the Spectrum medium wave and have named it `Tamil 24` with help of the founder of the IBC radio Thasicious Master for the Nediyavan faction.
Unusual : Banned but Around
Tamil Student Associations (TSAs) in over eight University campuses in Canada commemorated Heroes Day (LTTE terrorists who died in combat). James Clark from the Canadian Peace Alliance (of which Krishna Saravanamuttu is in the steering committee) said at the event at York last Monday: "Maaveerar Naal is an occasion not only to remember and pay tribute to the martyrs and heroes of Tamil Eelam, but also to reflect on the lessons of the struggle for peace and justice." (Did James Clark actually mean this or was he reading off a prepared script?) http://www.tamilnewsnetwork.com/2012/11/26/student-associations-mark-tamil-eelam-heroes-day-in-canada/
NCCT and USTPAC organized a protest in front of the UN Consulate in New York in September 2010 against Sri Lanka.
It is important to note that the Global Tamil Forum which claims to be the umbrella of pro-LTTE Tamil Diaspora groups overseas is in reality steered by the Nediyavan Faction which also steers the British Tamil Forum. It is Nediyavan and not Father Emmanuel who is the brains behind foreign LTTE operations. However, it is not even Nediyavan who is the real brains. The pro-LTTE groups are steered by another lot of people chief among them is Jeyachandran Gopinath (Jeya Annai) who resides in Norway. He is the founder of LTTE's official Norwegian paper strop, founder of TAMILNET, founder of NCET, Head of non-Tamil media for LTTE's NEDIYAVAN wing, Head of LTTE's election committee, former head of TCC in Oslo.
What is also noteworthy is that all is not honky dory within LTTE support-bases.
We do not know whether it is because of the LTTE kitty or because each of the leaders are vying to become the supreme leader now that Prabakaran is dead, but we do know that there are frictions and these frictions are excellent examples to show what a façade the Tamil 'Eelam' cause is.
We now need to wonder statistically how Tamils are divided.
How many Tamils align to Rudrakumaran and his TGTE?
How many Tamils align to Catholic clergy Emmanuel and his Global Tamil Forum?
How many Tamils are with Nediyavan and his TEPA?
Then we have the sub-groups who also play politics – British Tamil Forum is pro-Nediyavan.
What the GOSL must immediately do is to set up a mode of confidential and anonymous communication where harassed, tortured and aggrieved Tamils as a result of Nediyavan faction intimidation can log their details. These details can in turn be investigated and be sufficient enough for the respective EU governments to take action given that Nediyavan and group are now banned under UNSecurity Council Resolution 1373.
– by Shenali D Waduge