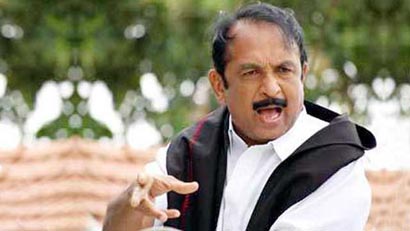 MDMK chief Vaiko on Sunday termed the recent comment that 'India has to learn a lot from the Sri Lankan Army' by the Indian Defence Secretary "humiliating".
Addressing a student gathering during an award ceremony, Vaiko also raised concern over the latest diplomatic move of the Centre towards Sri Lanka. Waving a copy of Express and showing the news report on Defence Secretary R K Mathur's statement in the presence of Sri Lankan President Mahinda Rajapaksa a few days ago, he asked, "The Sri Lankan Army had killed eight Sri Lankan Tamils after stripping them and was also criticised for the barbaric killing of Tamils in the ethnic war in Sri Lanka. Is this what we have to learn from Sri Lanka?"
He said that the Indian government was going to allow Sri Lankan Army officers to give "lectures" in India which was unfortunate. "Tamils have a presence in 65 countries and there is a need for all of them to unite to secure the  rights of Tamils in Sri Lanka."
Earlier, MDMK had organised elocution competitions all over the State for college students based on the book Vellum Sol authored by Vaiko, and selected 12 winners. Thanking parents for allowing wards to participate in the competition organised by a political party, Vaiko reiterated that the party's objective was not to gain political mileage. "I have not criticised any politician. I have narrated the words of leaders that paved the way for student and youth revolution throughout the world.
(Indian Express)