Gota pledges to wipe-out underworld
Posted by Editor on September 20, 2011 - 9:04 am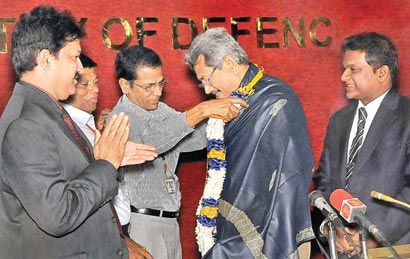 Defence Secretary Gotabhaya Rajapaksa yesterday said that the government would take all possible measures to eliminate underworld activities, extortion and other crimes that affect the smooth flow of businesses and society and sought the support of the business community to achieve this objective.
He said that it was the responsibility of the government to ensure security and develop a friendly environment in Colombo, which is the commercial hub, to develop the country, while developing the other cities on par with Colombo.
He made this observation at a discussion with tradesmen in Pettah, at the Defence Ministry auditorium, responding to questions raised by them. They gathered to put forward defence related issues to the Defence Secretary, that affected the smooth flow of businesses.
The Defence Secretary further stated that during the past two years his ministry took measures with the Urban Development Authority and other related authorities to make Colombo an attractive city. He added that each day police officers are deployed and sent to the relevant places around 5 am to guarantee that the employees of garbage clearing agents report to work and the work is done properly.
He stated that after the eradication of terrorism the people expect the country to be developed. He added that his ministry has made a massive transformation in Colombo attracting tourists and investors and the programme is still in progress. He also added that the business community should also support in removing shanties and keeping the city clean.
Rajapaksa said that although the city is being cleaned up every hawker is given an opportunity to conduct his business. He added, in the same way, shanty dwellers are also given comfortable houses. For this 17,500 houses are being constructed. He added that each housing unit costs Rs 2.5 million, in addition to the value of the plot and the expenditure on the infrastructure facilities.
During the discussion, the Defence Secretary directed the Police to attend to complaints made by the businessmen in Pettah. They brought to the notice of Defence Secretary that certain persons were demanding ransoms. A few houses were burgled in Wellawatta, imported goods in several containers have been robbed while they were transported to the container yards. The Defence Secretary directed DIG Anura Senanayake to deploy additional officers in those areas specially for that purpose.
When businessmen complained that certain roads in Colombo have not been developed UPFA MP Thilanga Sumathipala stated that most of those areas were coming under the Colombo Municipal Council and stated that it was very important that the CMC comes under the government to solve all these issues. He also said in response to a question by another tradesman that the government is to spend Rs 17,000 million to repair the drainage systems that are more than 100 years old and it has not yet been fruitful as the CMC is not supporting the government's initiative in this regard.
Courtesy: Daily News
Latest Headlines in Sri Lanka