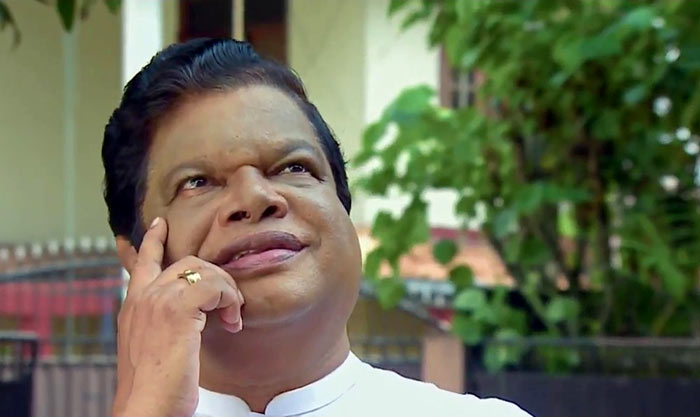 Top Joint Opposition spokesman Bandula Gunawardena yesterday said that wartime Defence Secretary Gotabhaya Rajapaksa should be their presidential candidate at the 2019 national election.
Gunawardena asserted that Gotabhaya Rajapaksa was the most suitable person to lead the country as he had a vision.
Gunawardena said so when The Island asked whether he had the backing of the JO. The Island raised the issue at the xJO media briefing at Punchi Borella in the wake of Gunawardena declaring at a public meeting at Godagama, Homagama that Gotabhaya Rajapaksa was the most suitable person to contest the next presidential poll.
Gotabhaya Rajapaksa chaired the meeting. Among those present were many JO activists, including former External Affairs Minister Prof. G. L. Peiris, Chairman of the Sri Lanka Podujana Peramuna (SLPP).
Pointing out that 2019 presidential election was now inevitable against the backdrop of the Supreme Court rejecting the JVP's proposed 20th Amendment aimed at abolishing the executive presidency, The Island asked whether the JO was certain of its choice. Gunawardena said there were five presidential hopefuls, both among the Rajapaksas and outsiders. But he felt Gotabhaya Rajapaksa was the best choice to lead the country.
Presidential poll will be followed by parliamentary elections in 2020.
At the onset of the media briefing, Gunawardena explained what he described as dire economic situation caused by the Sirisena-Wickremesinghe government's mismanagement of fiscal matters
The national economy could never be revived unless the public received a fresh assurance from those in power, Gunawardena said.
The one time highly sought after economics tuition master said that the government was struggling to cope up with rising oil bill and rapid depreciation of the Rupee against the US Dollar.
Alleging that the current dispensation lacked vision and tangible action plan, Gunawardena pledged that the JO was capable of saving the country from economic disaster.
Addressing Saturday's gathering at Godagama, Gotabhaya Rajapaksa said that former President Mahinda Rajapaksa would name the candidate at the right moment.
Bandula Gunawardena has thrown his weight behind Gotabhaya Rajapaksa in the wake of a section of the JO asserting that the former President could contest 2019 presidential election through a loophole in the law in spite of the two term limit imposed by the 19th Amendment to the Constitution introduced in April 2015.
Gotabhaya Rajapaksa, too, has been affected by the 19th Amendment as it prohibits anyone holding dual citizenship from contesting national level elections. Gotabhaya Rajapaksa holds US citizenship.
(Source: The Island – By Shamindra Ferdinando)