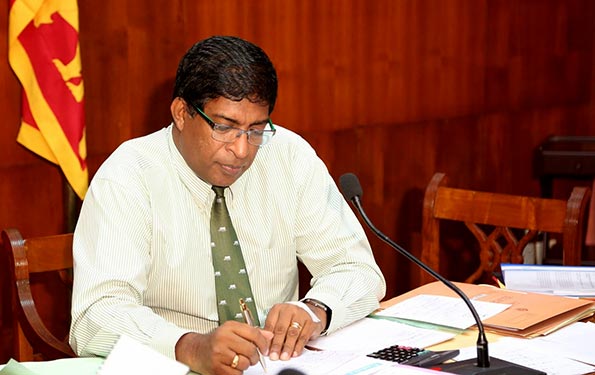 Condemning the unparliamentary move to defeat the finance regulation, Finance Minister Ravi Karunanayake yesterday maintained that the government was not least affected by this but assured to continue with granting the already proposed concessions to the people.
The Minister said the already decided concessions to Samurdhi recipients and the funds allocated to purchase paddy will be granted as planned but the additional concessions which the government was hoping to give would be hindered because of this move.
Lashing out at what he called the unethical attack on the Parliamentary traditions by Mahinda Rajapaksa backed faction, the Minister said only the general public would be further burdened by this move.
Stating that there is no necessity to go for an early dissolution of Parliament, Mr. Karunanayake said 175 MPs will support the government in future and this unexpected vote cannot decide its strength.
Addressing a late evening media briefing he added that the government's sole purpose of bringing up this regulation was to reduce the burden placed on the people with huge debts by the previous regime.
Deputy Minister of Policy Planning Dr. Harsha de Silva said this was nothing unusual but one of the treasury management methods. "We were expecting this to work and reduce high debt to low debt ultimately giving a huge relief to the common man" he stated.
Leader of the House Lakshman Kiriella said following the assurance by Opposition Leader MP Nimal Siripala de Silva not to go for a voting on the regulations yesterday morning, this unparliamentary move shows only a division in the Opposition.
(Daily Mirror)