Speaker tells MPs to decide who Opposition leader is
Posted by Editor on April 8, 2015 - 9:05 am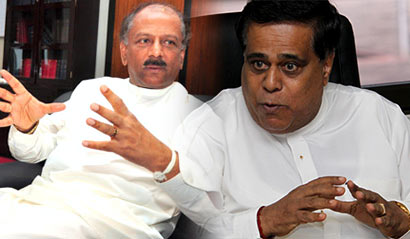 Speaker Chamal Rajapaksa told Parliament that he was still studying the submissions made to him about who should hold the post of Opposition Leader.
"As it is a unique situation, I am still studying the matter," Speaker Rajapaksa said when he was asked what his decision was.
A number of UPFA members are opposed to MP Nimal Sirirpala de Silva holding the post as SLFP MPs are also part of the government.
When the House commenced business after the question time Kalutara District UPFA MP Kumar Welgama raising a point of order demanded to know who the Leader of Opposition was.
"The Speaker promised to inform this House of his decision and we would like to know what it is.
Speaker Rajapaksa: "This is a new situation. I need to study this further."
Prime Minister (to the Speaker): "You are just like me."
NFF Leader Wimal Weerawansa: "We want to know whether you will be studying this matter until Parliament is dissolved."
Speaker Rajapaksa: "I cannot say how long it will take. Let's see."
JVP Leader Anura Kumara Dissanayake: "Who will be the Opposition Leader until you finish studying the matter? Is it Nimal Siripala de Silva?
The Speaker said it would be easier for the MPs decide among themselves who the Opposition Leader should be.
(The Island)
Latest Headlines in Sri Lanka