Government to amend Press Council Act; Websites to be streamlined
Posted by Editor on July 6, 2012 - 8:51 am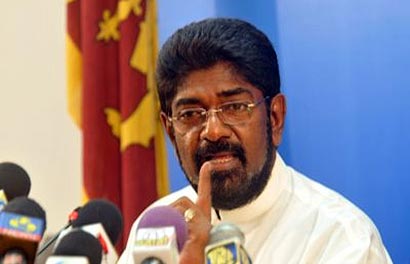 The government has put in place several steps to amend the Press Council Act of Sri Lanka to monitor and mitigate issues created by certain websites, Mass Media and Information Minister Keheliya Rambukwella said.
The minister addressing the weekly Cabinet media briefing at the Media and Information Ministry yesterday, said even though the print and electronic media can be monitored and regulated by the Sri Lanka Press Council Act, websites are not monitored by the Act.
"It is an exception since those monitoring regulations don't cover websites. Considering these issues, the government decided that laws with regard to the media will be amended making registration of news websites compulsory by law," he said.
The Sri Lanka Press Council is a statutory institution established under the Sri Lankan Press Council Act number 05 of 1973, which comes under the purview of the Mass Media and Information Ministry.
A code of ethics for journalists has been introduced as rules by the gazette extraordinary number 162/5 A of October 14, 1981.
The Press Council performs its duty with a vision to protect press freedom in Sri Lanka and to popularize press freedom as a cultural element for national development.
The minister further said the Press Council Act will be amended introducing new regulations, etiquette and guidelines aimed at streamlining websites. It has been revealed that certain websites carry out mud slinging campaigns against politicians, artistes and other reputed personalities.
As per Sections 25 and 26 of the Sri Lanka Press Council Act, all newspapers, magazines, periodicals published in the island should be registered with the Sri Lanka Press Council.
Since websites are an exception, the Media and Information Ministry requested all websites to register with the Information Department. Responding to this request, a great number of websites registered with the Information Department while only two websites went before courts against this decision. However the court ordered those two websites opposed to the Media and Information Ministry decision to follow suit and abide by the regulations and guidelines issued by the ministry regarding registration of websites.
Responding to a question raised by a journalist Minister Rambukwella said media freedom in Sri Lanka was not under threat.
"Free media is not under threat. All we want is to ensure the right of reply for people who may be maliciously targeted by certain sections of the media. It is with this in mind that we directed all news websites be registered," he said.
"As Media Minister I am responsible to the people of this country and many websites have used the slogan 'free media' to maliciously slander people. When a website is not registered, no one can say even from where it is operating. We cannot let that happen", the Minister noted.
"Referring to the banning of two 'mud' slinging obscene websites, the minister said several allegations had been made against the two websites which were raided.
"I'm not in a position to divulge information right now but there have been various allegations against these websites," he said.
"However, if any person or institution is disturbed or defamed by erroneous news reports, photographs published in any newspaper in Sri Lanka, they can complain to the Sri Lanka Press Council. A systematic investigation will be conducted on the complaints and legal action taken accordingly. He said the Press Council Act will be amended so as to conduct such investigations against websites." Minister Rambukwella added.
Courtesy: Daily News
Latest Headlines in Sri Lanka