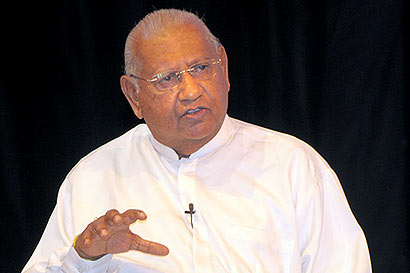 The Cabinet Sub-Committee yesterday decided to recommend to the government a legal mechanism worked out to deal with the Halal certification of food items, a Minister said yesterday.
After meetings with Muslim clerics, the Buddhist clergy and the business community, the Sub-Committee chaired by Senior Minister Ratnasiri Wickramanayake wrapped up its sessions yesterday.
It was ruled that the ACJU had no legal right to issue Halal certification for food items, the minister said.
"The ACJU has been legally recognised. Yet, it has no power to issue Halal certification. They admitted it," a Committee member told Daily Mirror on condition of anonymity.
The ACJU maintains that Halal certification is needed to differentiate food items approved for consumption according to Islamic principles. Therefore Minister Wickramanayake, as the head of the subcommittee, is now expected to make a draft of recommendations to be considered by the Cabinet.
Asked about the consensus reached between ACJU and the representatives of the Buddhist clergy on Monday, the Minister said, "The committee was unaware of the aspects they had agreed upon. It is a step forward." However, Minister Wickramanayake would make the final recommendations based on submissions made by the interested parties.
The ACJU, at a joint press conference on Monday, announced that issuance of Halal certification would be optional hereafter. Also, they agreed to do it without charging any fee from industrialists and businessmen.
(Courtesy: DM Online)