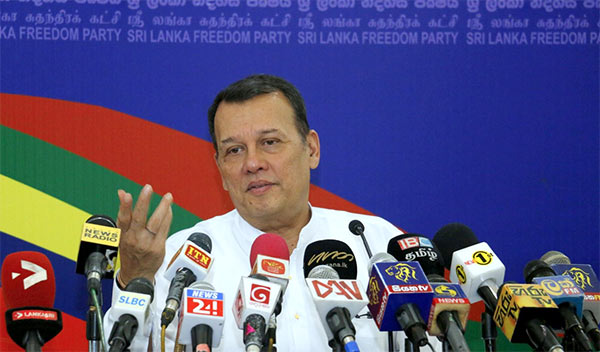 The government has decided to invite India to develop the West Container Terminal (WCT) in the Colombo Port as a joint venture with the Sri Lanka Ports Authority (SLPA), Ports and Shipping Minister Mahinda Samarasinghe said.
He said the government-to-government proposal would be submitted to the Cabinet next Tuesday
Sounding a conciliatory note, he said Sri Lanka had never given an undertaking to India to develop the East Container Terminal (ECT) and admitted that there was a delay in implementing the projects contained in the MOU signed between the two countries on April 26, 2017.
The minister said Indian Prime Minister Narendra Modi had pointed this out when he met visiting Sri Lankan Prime Minister Ranil Wickremesinghe.
He told the SLFP news briefing that President Maithripala Sirisena had explained Sri Lanka's stance on the ECT to Premier Modi when the two leaders met in Katmandu on the sidelines of the BIMSTEC summit in August.
"Sri Lanka's position is that the ECT will be developed by the SLPA as a fully government-owned venture without any foreign collaboration or investment," the minister said.
Quoting the MoU signed by Indian Foreign Minister Sushma Swaraj and Development Strategies and International Trade Malik Samarawickrama, he said Sri Lanka had not agreed any to Indian involvement in ECT development plan.
The MoU in the 9th paragraph says, "A container terminal in Colombo Fort as a joint venture which includes Indian investment considering that majority of transshipment in Colombo Port is related to India. The GOSL will announce the award of the contract in this regard by end of May, 2017".
"This is the only reference in the MOU in respect of the Port of Colombo and it says nothing about the ECT but only about 'A Container Terminal'," the minister said. "The WCT development project requires a huge investment and with the completion of the development protects at both terminals, Sri Lanka will have three big container terminals that also includes South Asia Gateway Terminal. All three terminals will provide berthing facilities to some of the biggest ships, container carriers and tankers."
Referring to the two statements issued in New Delhi and Colombo at the end of the Sri Lankan Prime Minister's official visit to India, he said Sri Lanka admitted to a delay in implementing other projects mentioned in the MOU and that Sri Lankan government would make every effort to expedite them.
(Source: Daily Mirror – By Sandun A Jayaskera)