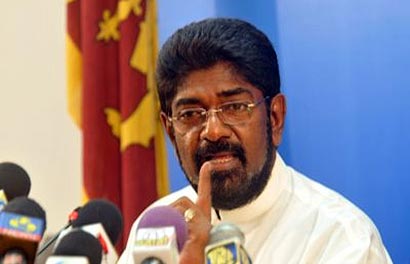 Northern Provincial Council Chief Minister C. V. Vigneshwaran should seek prior permission from the government if he plans to undertake a visit to India, Mass Media and Information Minister Keheliya Rambukwella said.
Responding to a question by a journalist at the Cabinet press briefing at the Ministry auditorium yesterday on whether the NPC Chief Minister has to inform the government if he accepts the invitation from Indian Prime Minister Modi to meet him, the minister said the Governor of the Northern Province should be informed in advance if he (Vigneshwaran) plans to make an overseas tour in order to make an acting appointment to execute his duties in his absence.
He said it is an obligation of every state official to obtaining such permission.
He said it is a common procedure for every Chief Minister to inform the Governor of the Province in advance before undertaking foreign visits.
Meanwhile, responding to another question, the minister totally rejected the claim of the NPC Chief Minister about a military land grab in the North, and said it is a very unfair claim as it was the government which bestowed full freedom and development to the people in these areas by ending terrorism. "The real story is that the Northern Provincial Council ruled by the TNA has not utilized at least 10 percent of the funds provided by the government for development activities. The accelerated development which was carried out in the North before the setting up of the NPC has been hampered by the TNA. The TNA has only political driven intentions, and they deliberately attempt to interrupt the development" he said.
Commenting on Chief Minister Vigneshwaran's opposition to the Northern Province Governor, the minister said it is unacceptable adding that it is up to the Chief Minister to build mutual understanding with the governor and carry out development work without unnecessary delays.
"According to the Indian Constitution, the Indian Prime Minister can call for any State to be dissolved. However, in the case of the 13th Amendment to our Constitution, the recommendation of the Chief Minister of the relevant province is necessary for the governor to dissolve the council. This is a landmark difference between the Indian system and the 13th Amendment. In that way, Sri Lanka has a more democratic procedure, as the governor is a representative appointed by the President whereas the composition of the Provincial Council is decided by the people in the Province" the minister explained.
The minister further said the government is ready to implement the 13th Amendment in full except devolution of police powers.
(Daily News)