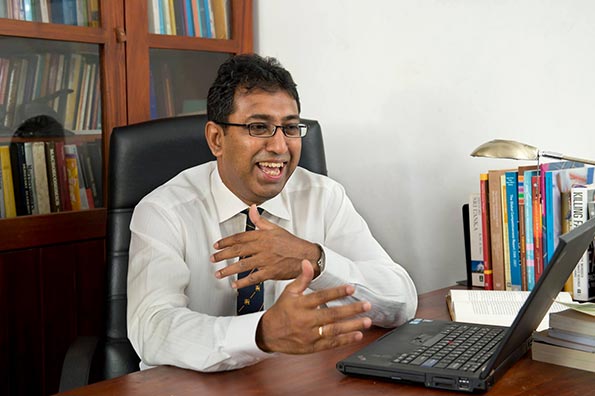 Amidst queries raised by the Opposition, the government yesterday denied printing money to meet the increased expenditure resulting from the recent allowances for the public sector.
Deputy minister of Policy Planning and Economic Development, Harsha de Silva told a news conference in Colombo that the Maithripala Sirisena administration did not intend going down the disastrous road taken by the previous regime which had left the country mired in debt for generations to come.
"We will adopt prudent economic polices. Expenditure will be re-allocated to meet the increased wage bill," he noted, adding that they would adhere to time tested and globally accepted financial procedures and not try to manipulate figures as the Rajapaksas had done.
De Silva said that discussions were on with the Employers' Federation, amidst calls by private sector trade unions for a salary increase in keeping with what was provided to state employees in the government's mini budget presented by Finance Minister Ravi Karunanayake last month. But, he stressed that the government could not legislate for private sector salaries to be increased.
Overheads incurred by businesses had dropped with recent reductions in the price of fuel, gas and other essential foodstuffs. Part of their savings could be passed on to the employees, Dr. de Silva observed.
With a further Rs. 2,000 pledged to public servants in June this year, their minimum pay including allowances would exceed Rs. 30,000, he said.
Health Minister Rajitha Senaratne told last weeks Cabinet press briefing that the government had recently discussed the possibility of a salary hike for the private sector with the National Labour Council which comprised representatives of all the major political parties in the country.
"We agreed that the minimum basic salary be fixed through the Wages Board at Rs.10,000 and an increment of between 15 to 35 percent be granted. In the case of Shop and Hotel employees,  a 15 percent increment was agreed on. But, we did not give an assurance that it would be enforced," he said.
(The Island)