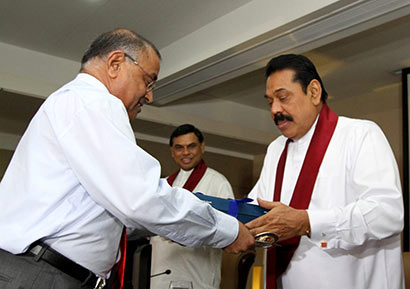 Objectively compare our nation's steady progress today with the situation where we were five or six years ago, President Mahinda Rajapaksa said yesterday at the presentation ceremony of the Finance and Planning Ministry's Annual Report 2013, held at MILODA Academy of Financial Studies in Colombo. He said the government's discussions on development issues went beyond corporate heads, to the 'smallest people' in the country, including three-wheeler drivers and lorry drivers.
"The Finance Ministry Annual Report 2013 presented today clearly showed the economic and social pathway we've taken as a nation after crushing the protracted separatist war to achieve tangible economic benefits to every citizen of the country, he said.
The President observed: "Our government believes in implementing inclusive development after having broader discussions. We don't talk only to a small group of corporate business leaders. When consensus and consultations are needed at a broader level in making decisions on key development moves, we talk to three-wheeler drivers, lorry drivers, self-employed people and integrate their feedback also into key decisions. Thus, all sections of people can participate in the economic and social activities taking place in the country.
"Today, action has been taken to modernize and strengthen the public sector to offer effective services while the private sector has been given the freedom to conduct business operations in order to directly and substantially contribute to the economic output of the nation.
"Past governments didn't have a clear vision. They used some foreign development concepts which didn't produce tangible results for the country or the people. In contrast, we've given the policy guides to both private and public sectors and let them implement them without any undue interference.
"Some people try to highlight negative effects without saying a word about the enormous benefits of the government's economic performance. For example, ownership of motorcycles, three-wheelers and other vehicles have significantly gone up. It seems nobody realizes that government's economic policies have enabled it, so nobody praises the government for boosting personal human development. But if the fuel price goes up by five-cents, they'll suddenly wake up and vociferously place the blame on the government. Likewise, many corporate individuals are proud and happy about themselves when their organizations are making profits, and assume it all happens because they're smart. They don't give any credit to government policy. But if their profits dip, then they tend to find fault with the government.
Speaking at the event, Financial and planning Ministry Secretary Dr. P.B. Jayasundare said Sri Lanka has today achieved the level of economic growth taking place in East Asia. "Now it's time for us to look east towards Japan, China and Korea. We've had a sustained economic growth in excess of seven percent. Inflation is at mid-single digit of five percent. Current Account deficit is narrowed to 3.9 percent of GDP from 9.5 percent of GDP in 2009.
"Remittances from overseas employment are US$6,400 mullio. We have turned to skills-based buoyant earning sources with prospects of reaching US$ 10 billion in 2016. Global Competitiveness Index ranked Sri Lanka at 65th place from 68th place in 2012. Economic Freedom Index ranked Sri Lanka at 81st place out of 185 countries, he said.
(Courtesy: The Island)