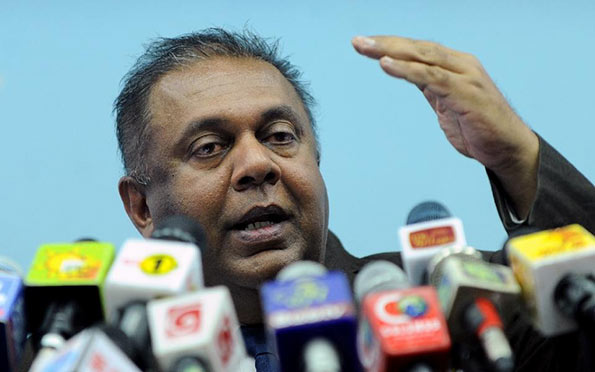 The government says it would find the billions of dollars that the Rajapaksas had allegedly hidden in  many foreign countries, no matter how long it took.
Foreign Minister Mangala Samaraweera addressing a news conference in Colombo last week said he was speaking with responsibility about "the billions of dollars that the Rajapaksas including the birthday boy had stashed away in foreign lands."
"They know what we are talking about. Catching big time professional crooks who have covered their tracks very well takes time. It's not as easy as nabbing common pickpockets.
But we are determined to find every dollar regardless of how long it takes because the rightful owners are the people." The authorities are probing 25 out of 725 serious cases involving not only massive corruption and violation of general and exchange control laws but also murder. In each of them the Rajapaksas are either directly or indirectly involved, the Minister alleged.
"The people are questioning us as to why we have allowed the rogues in the last UPFA regime to go Scot free and what we have been doing for the last eight months. Some even talk as if we have been in power for eight years. We . request the masses to be patient because  it takes time when you have to probe intelligent crooks.
"In connection with just one case, investigators have  had to to visit many countries including Seychelles, British Virgin Islands , Dubai and Singapore. The Bribery and Corruption Commission has just 29 investigating officers. Just imagine how much manpower and time would be required to inquire into 725 serious cases.
The Police is also involved in the various investigations. But they cannot allocate all their personnel to probe  just one family and their cronies ", he observed.
Samaraweera said that  countries such as Libya , Egypt and Tunisa had been able to recover only a tiny fraction of  the over hundreds of billions of dollars that their former leaders Gaddafi, Hosni  Mubarak and Bin Ali are alleged to have swindled even though many years had lapsed since their ouster.
Charges against the Rajapaksas and their cronies  included floating  front companies and  acquiring  hotels and companies both in Sri Lanka, with ill-gotten wealth he noted.
" Broadly speaking they had virtually robbed entire banks," he alleged.
(Source: The Island – by Zacki Jabbar)