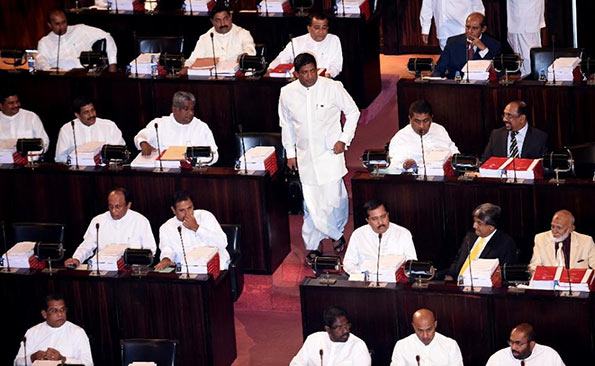 The 70th budget, the first ever budget of the National Government presented by Finance Minister Ravi Karunanayake in Parliament yesterday, proposes to provide relief to people by reducing the prices essential commodities.
The budget has been designed to promote rural development, industry development, guarantee the land rights of the people and solving their housing issues while laying special emphasis on the education and health sectors.
The minister proposed in the budget proposals to reduce prices of 11 selected essential commodities. It was proposed to reduce price of a 12.5 kg cylinder of gas by Rs 150. The tax on 1 kg of potatoes, onions reduced by Rs 25 each.
The price of locally manufactured 400g packet of milk powder by Rs 30, while a1kg packet of infant milk powder by Rs 100. It was also proposed to bring down the maximum price of 425 g tin of canned fish to Rs 125 while the maximum price of 1 kg of sprats was brought down to Rs 410 as at most of the places it is sold at Rs 800.
The minister also proposed to sell a kilogram of dhal at a maximum price of Rs 169 .
The price of 1 litre of kerosene is proposed to be reduced by Rs 10. Rs 3,000 million is to be allocated for the provision of these concessions," Finance Minister Karunanayake said.
"The prices of essential food commodities in the market have increased rapidly since the previous government had not implemented any action to manage price fluctuations during the November and December season,.the minister said"
Minister Karunanayake further said that 100,000 houses are proposed to be to be built in five years for slum dwellers and low income groups.
He added import taxes on construction materials would be reduced. He also added that 150,000 housing units will be constructed for middle level government sector and private sector employees, while 5,000 houses for senior government sector officials at reasonable prices. Those houses will be constructed in state lands in Colombo, Kandy, Jaffna, Matara, Batticaloa, Puttlam and Kurunegala.
"The government will commence a new rural housing scheme for the rural community in which the government will share a maximum cost of Rs 300,000 with the occupant to uplift their living standard" the minister said.
He said 1,000 such houses will be constructed in each electorate.
Minister Karunanyake further said that the necessary laws will be formulated to grant ownership of lands and houses to permit holders with occupancy of over 10 years, under the Land Development Ordinance, including Swarnaboomi and Udagama.
"The public investment in education during the last decade was woefully inadequate" the Finance Minister said.
He said it is proposed to allocate Rs 1,000 million to give a two year full time training to teachers within five years of their recruitment. Rs 2000 million is proposed to be allocated for construction of teacher quarters and rest rooms for rural and regional schools to deploy teachers to such schools specially for Science, Mathematics, IT and English.
Rs 2,000 million is proposed to be allocated for provision of sanitary and water facilities for primary and secondary schools, while Rs 2,000 million has been allocated to provide electricity to schools.
He added it is planned to restrict the number of children in a class room to 35 for better interaction between teachers and students.
"It has been proposed to set up a Mahapola University in Malambe to teach ICT, Business Studies, English, Management and other new market oriented subjects," the minister said.
"The Mahapola University will be established in honour to late politician late Lalith Athulathmudali,."the minister said
He added that Rs 3,000 million has been allocated for the construction of this university. He also added that the total allocation for education is 5.4 percent from the GDP.
"The government is committed to providing a free health service to all citizens" Minister Karunanayake said.
"We fully recognize the requirement to invest in the health sector for this purpose,"he said. The minister said that it was proposed to allocate Rs 6,500 million to establish 1,000 kidney dialysis centres in the CKDU prevalent areas and Rs 2,000 million for the construction of a hospital specializing in kidney disease management in Minneriya. further Rs 3,000 million is proposed to for the construction of three cancer hospitals in Nallur, Kandy and in Matara.
(Daily News / Pix by AFP)