Questions over floating armoury in Indian territorial waters
Posted by Editor on November 20, 2015 - 1:31 pm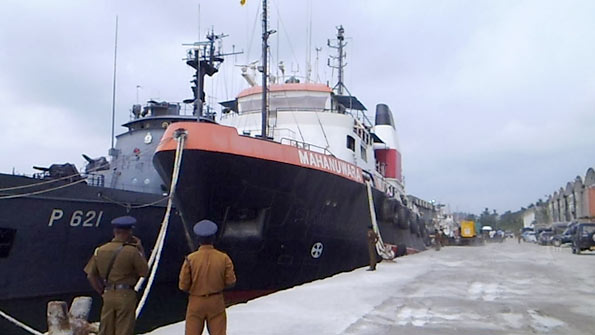 The case of m.v. Avant Garde, a "floating armoury", has acquired a new dimension since the Sri Lankan Navy boarded the vessel on October 6 to discover a massive stash of weapons on board.
The discovery has sounded a security alarm as the vessel, before being rested at the Galle harbour in eastern Sri Lanka, had been to the Indian territorial waters while carrying its cargo of weapons.
Last weekend, on the order of President Maithripala Sirisena, the Sri Lankan Navy took over the ships cargo of more than 816 automatic rifles of different types and 2,02,674 rounds of ammunition. While the ship was part of Avant Garde Maritime Services (AGMS), allegedly linked to Sri Lanka's Rajapaksa family, the massive cargo of weapons and ammunition has raised eyebrows of security analysts in South Asia, hinting that the boat could have been part of a maritime version of the "Purulia arms dropping case".
The controversy over of Avant Garde Maritime Services (AGMS) snowballed since March when a Sri Lankan court stopped the former Defence Minister Gotabaya Rajapaksa from travelling abroad to investigate allegations that he used "floating armouries" in the Indian Ocean to help mercenaries and "private armies". Sri Lankan official sources, on condition of anonymity, told The Hindu that the ships of Avant Garde Maritime Services were meant to protect the energy lanes of the Indian Ocean. The website of the company points out that it conducts security assistance services all the way up to the Red Sea.
Lt. Gen. (Retired) Prakash Katoch, a veteran of special military operations, told The Hindu that the reports of the boat having travelled through the territorial waters of India was disturbing and Sri Lanka should take India into confidence so that the destination and real intentions behind the boat's cargo and the details of the Avant Garde Martime Services was known to India. "Presence of such a large number of arms on a single ship is unusual and naturally raises suspicion. India should ask Sri Lanka for whom were these arms exactly meant for," he said.
Maheshini Colonne, spokesperson of the Sri Lankan Ministry of Foreign Affairs, however, requested for time for the investigation to be over, adding that the case was complex. There have been allegations that the AGMS was unduly favoured by the government of Mahinda Rajapaksa and as a result caused losses to the Sri Lankan Navy.
Lt. Gen. (Retired) Katoch said that Sri Lankan authorities should help India investigate what was the "floating armoury" doing in the Indian territorial waters.
(Source: The Hindu)
Latest Headlines in Sri Lanka