Gura, perfect room-mate, he used to make my coffee – Jayasuriya
Posted by Editor on March 6, 2017 - 7:14 am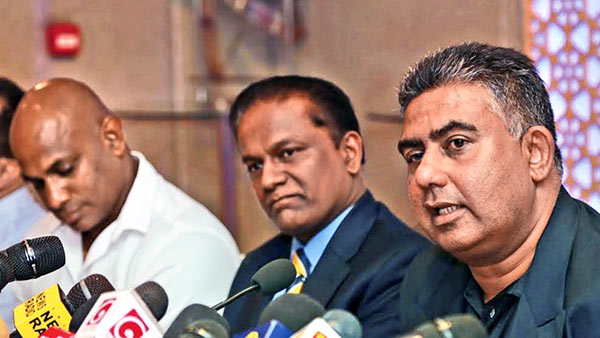 Most young cricketers have identified Asanka Gurusinha as a no-nonsense, straight talking, ruthless individual, but former captain Sanath Jayasuriya yesterday shed some light into the gentle side of Sri Lanka's legendary number three batsman, when he was introduced to the media as the national cricket team's Cricket Manager.
While Gurusinha was one of the senior-most players when Sri Lanka triumphed in the ICC World Cup in 1996, Jayasuriya, seven years his junior, was still finding his feet in international cricket.
"I loved playing with him," Jayasuriya said. "He is a tough disciplinarian, but an excellent room-mate. He will make my coffee, but the problem was I had to wake-up at 6 o'clock. Otherwise trouble," Jayasuriya recalled.
Moments after the winning runs were scored in the World Cup final, Arjuna Ranatunga and Aravinda de Silva, the batsmen on strike picked up stumps as souvenirs. Umpire Steve Bucknor picked up one stump as well. Players weren't allowed to touch the two stumps that contained the stump cameras and that left one more stump to be collected as a memento. Jayasuriya and Gurusinha were eying that stump and dashed to the middle. A younger Jayasuriya got there first and television footage showed how Gurusinha demanded the stump back.
"I am sure you all remember how Asanka chased me down the ground and got hold of that stump," Jayasuriya recalled.
"Aravinda nicknamed him concrete. He simply didn't get out. He will bat for hours and hours. All of us had to look after only one end. He was such a strong willed cricketer and I am sure the younger guys will learn a lot," Jayasuriya added.
"I am very happy that Asanka has joined SLC. He is a massive strength for us. He was out for 20 years and I have no doubt that cricket will benefit with his return. We have a young team. We need all the help possible," Jayasuriya went onto say.
(Source: The Island – by Rex Clementine / Pix by Daily News)
Latest Headlines in Sri Lanka