Happy to see friendly ties between India and Sri Lanka: China
Posted by Editor on February 18, 2015 - 6:57 am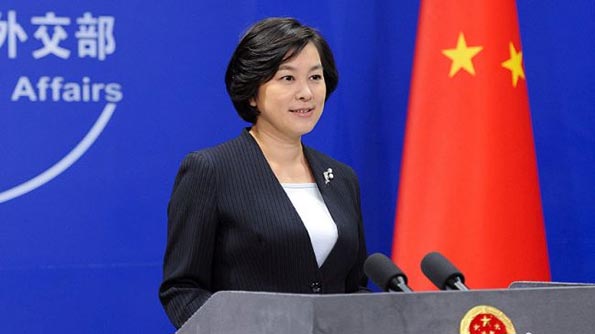 China today reacted guardedly to new Sri Lankan President Maithripala Sirisena's India visit, saying it is "happy to see" close and friendly relations between them and emphasised that sound ties among the three nations will be conducive to the entire region.
"Sri Lanka and India are friendly and important neighbours to China," Chinese Foreign Ministry spokesperson, Hua Chunying told media here, commenting on Sirisena's visit to India and various agreements reached between the two countries.
"We want to develop strategic cooperative partnership with India for peace and prosperity and wants the same with Sri Lanka," she said.
"Meanwhile, we are happy to see close and friendly development of India-Sri Lanka relations. We believe the sound relations among the three countries are conducive to the three countries and to the whole region. Therefore we are happy to see development of relations between Sri Lanka and India," she said.
India and Sri Lanka yesterday signed a civil nuclear cooperation agreement which is seen as an effort by New Delhi to counter growing Chinese influence in the island nation.
This is the first such deal signed by Sri Lanka with any foreign country, reflecting the new Lankan government's pro- India approach.
The pact was signed after talks between Prime Minister Narendra Modi and the new Sri Lankan President who chose India for his maiden foreign visit after assuming charge following a bitter presidential poll.
Both the leaders also decided to expand defence and security cooperation between the two countries.
India's ties with Sri Lanka had taken a hit during the rule of Sirisena's predecessor Mahinda Rajapaksa as China had expanded its footprint in the country by building ports, highways and participating in other infrastructure projects.
After his visit to India, the new Sri Lankan President will visit China next month for talks with the top leadership.
Sirisena will arrive in China on March 26 to attend the annual Boao Forum for Asia, a prestigious Chinese think tank, modelled on the 'Summer Davos' meet here, and will hold talks with President Xi Jinping.
(DNA India)
Latest Headlines in Sri Lanka