Mangala to make first China visit post election
Posted by Editor on February 17, 2015 - 5:14 pm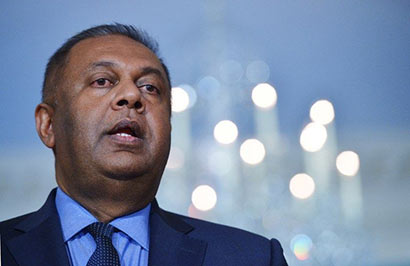 Sri Lanka's foreign minister will visit China next week in the highest-level trip to Beijing by a member of the new government, the Chinese Foreign Ministry said on Tuesday, as China seeks to ensure the safety of its investments there.
New Sri Lankan president Maithripala Sirisena has unnerved China with his re-examination of certain key Chinese-invested projects, including a $1.5 billion "port city" project in Colombo that India is concerned is a security risk.
Chinese Foreign Ministry spokeswoman Hua Chunying said that Sri Lankan Foreign Minister Mangala Samaraweera would meet his Chinese counterpart and other officials on his Feb 27-28 trip.
"We hope to use the opportunity of this visit by Foreign Minister Samaraweera to have a further deep exchange of views on the future of Sino-Sri Lanka ties under this new situation," Hua told a daily news briefing.
A senior Chinese envoy, Assistant Foreign Minister Liu Jianchao, visited Colombo earlier this month, and President Maithripala Sirisena will visit China in March.
India had grown increasingly wary of former president Mahinda Rajapaksa's pursuit of closer ties with China, which became a key supporter of the island's economy after its 26-year-civil war ended in 2009.
China has also built a seaport and airport in the south of the country, raising fears Beijing is seeking influence in the island state with which New Delhi has had deep historical ties.
Relations worsened with India further after the Rajapaksa government allowed Chinese submarines to dock last year.
(Reuters)
Latest Headlines in Sri Lanka