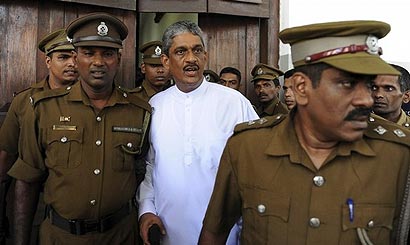 May 12, 2011 : The Court decided to postpone the hearing of the white flag case concerning former army commander Sarath Fonseka, as he was unwell today.
Fonseka was incidentally scheduled to make a dock statement.
The case was called up again today, before a trial at bar, at the Colombo High Court.
Fonseka while making his dock statement said that he is not prepared to betray a country that he liberated from terrorism.
He further noted that he never said that the Defence Secretary had ordered then Brigadier, Shavendra Silva, to shoot LTTE leaders who arrived with white flags, as mentioned in the charges levelled against him.
Fonseka,  further revealed to court today that the article published by The Sunday Leader Editor Fredrica Jansz, stating that he had made such a statement, was false.
The former army commander also said that he never earned money in a fraudulent manner during his 40-year tenure in the army, and that he sent his eldest daughter to study overseas, by selling a property he owned in Raddolugama.
Several minutes into Sarath Fonseka's dock statement , he developed a throat ailment and the judges ordered prison authorities, to show Fonseka to Dr. Vajira Tennekoon.
The case was postponed until May 19.
Courtesy: News First