Peiris, Gunawardena to hold talks in New Delhi
Posted by Editor on May 13, 2011 - 9:34 am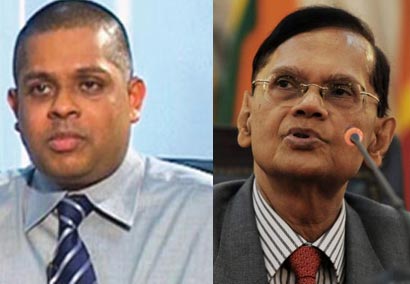 COLOMBO: Sri Lanka's External Affairs Minister G.L. Peiris and Sajin de Vass Gunawardena, Coordinating Secretary to the President, will visit New Delhi to hold a broad range of talks with the Indian leadership on post-conflict management issues in the island nation.
In the three-days they will spend in New Delhi from May 15, the Sri Lankan team will apprise the Indian top bureaucracy and leadership of their concern over the United Nations Secretary General's Panel of Experts Report on Accountability in Sri Lanka (submitted to the UNSG on April 12 and released on April 25). Mr. Gunawardena, MP, is the presidential pointsman for the Foreign Ministry.
The report holds both the LTTE and the government responsible for the humanitarian tragedy that took place during the last stages of the war, leading to the death of innumerable civilians caught in the conflict. The report has five findings against the government and six against the LTTE.
Ever since the report was released, the United Nations has come in for severe criticism from most quarters in Sri Lanka. The government said it would not respond officially to the report because it was not a U.N. document, but would brief the United Nations Secretary General on the steps that Sri Lanka had taken during and after the war. Sri Lanka preferred to name the report "The Darusman Report," after committee chairman Marzuki Darusman, a former Attorney General in Indonesia.
President Mahinda Rajapaksa said the government was "making a complete assessment of this highly biased report and would place these finding before the world to bring home the truth about the final phase in eradicating terrorism and the current efforts at reconciliation, rehabilitation and reconstruction."
Addressing Editors of Sri Lankan print and electronic media at Temple Trees, his official residence, on Wednesday, he said: "The report of the Darusman Committee on the final phase of the operation to defeat terrorism in Sri Lanka is a tendentious document that makes grossly false allegations about Sri Lanka and its security forces. The government will defend the good name of the country and expose the false allegations that are abundant in this report."
He emphasised that although there were questions about the validity of the panel that prepared this report, Sri Lanka would not take it lightly because it was necessary to expose the abundance of false allegations made, and it was the responsibility of the government to safeguard the good name and the image of the country.
Courtesy: The Hindu
Latest Headlines in Sri Lanka