High costs slowing Sri Lanka push toward solar energy
Posted by Editor on September 23, 2016 - 7:13 am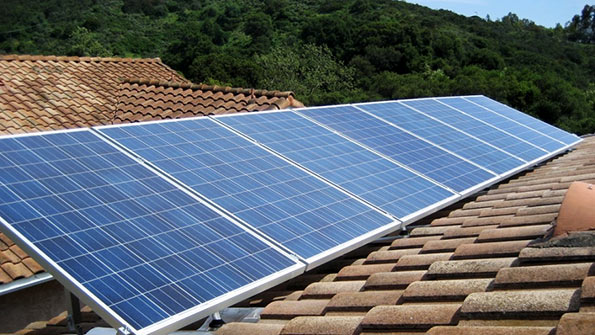 An ambitious plan by the Sri Lankan government to outfit 100,000 homes with solar panels, to turn them into power producers for the national grid, may be too expensive for many families to afford, experts warn.
Sri Lanka's government this month launched a "battle for solar energy" that aims to add 220 megawatts of clean power to the country's energy grid by 2020, or about 10 percent of the country's current daily electricity demand.
By 2025, the country hopes to boost its solar power output to 1,000 megawatts to meet fast-growing power needs, said President Maithripala Sirisena.
The president, who launched the initiative, said the plan called for solar panels to supply all the energy needed at the president's residence, and that the country was committed to meeting growing energy demand with clean energy.
But shifting away from coal and other fossil fuel power to renewables – the country's goal, according to Ranjith Siyambalapitiya, its power and energy minister – will be a challenge, the officials admitted.
Solar power has the potential to meet 32 percent of Sri Lanka's annual power demand of around 10,500 gigawatts – but so far just 0.01 percent of that potential has been developed, according to the Sri Lanka energy sector development plan for 2015-2025.
Today about 3 percent of Sri Lanka's energy demand is met by renewables such as wind and solar. Hydropower provides about half of the country's electricity during the wet season but during the dry season, between August and October, 81 percent of the island's power needs are met by fossil fuels, over half of that from coal.
"Solar is still not very popular because entry level costs are high and it does not make economic sense to low-end consumers," said Thusitha Sugathapala, an energy specialist at the University of Moratuwa.
The cheapest entry-level home solar panel installation costs over 200,000 Sri Lanka rupees, or about $1,370. That's because the materials must be imported, and face import duties, Sugathapala said.
Even larger users of household power, by comparison, pay only around Rs 5,000 ($34) a month in electricity bills.
THE SUBSIDY PROBLEM
Sugathapala, who previously worked on energy issues in the government, said household that use small amounts of electricity are also heavily subsidised by richer households.
For the smallest-scale users, of 1 to 30 units of electricity a month, electricity costs Rs. 7.85 a unit, while large household consumers – those above 180 units – pay Rs. 45 per unit.
The potential loss of that subsidy for poor households is one barrier to faster uptake of solar energy, Sugathapala said.
Tharanga Dissanayake, a computer programmer whose household in Moratuwa, south of Colombo, uses an average of 200 units of electricity per month, said that investing several hundred thousands rupees on solar energy panels was not a smart option for him.
"It would be at least four years before I recoup my investments. That is too long and I may have to spend on repairs," he said.
Under the current effort to promote household solar installation, the government has offered to buy electricity generated by household solar panels at about Rs. 22 per unit. The scheme also offers households low-interest bank loans to buy the equipment, with a repayment period of seven years.
But experts like Sugathapala feel that more incentives will be needed to persuade families to shift to solar.
"If we are to make solar attractive, then ideally there needs to be more attractive incentives," he said, including things like cheaper costs for panels, free installation, government help in maintaining panels and a higher government payment for solar energy produced for the national grid.
He said Sri Lanka has historically looked to the least expensive option to generate power, to hold down costs for consumers. Currently, because the cost of imported solar equipment is high and coal is relatively cheap, coal is the cheapest option – as long as issues like the environment and health aren't taken into account.
At current rates, a kilowatt of electricity generated using solar panels costs Rs 23 while an average coal-generated kilowatt costs Rs 15, according to Sugathapala and data from the Ceylon Electricity Board.
Energy minister Siyambalapitiya said pressure to keep electricity prices low for consumers meant shifting to cleaner energy was unlikely to be cost-effective in the short run.
(Reuters)
Latest Headlines in Sri Lanka