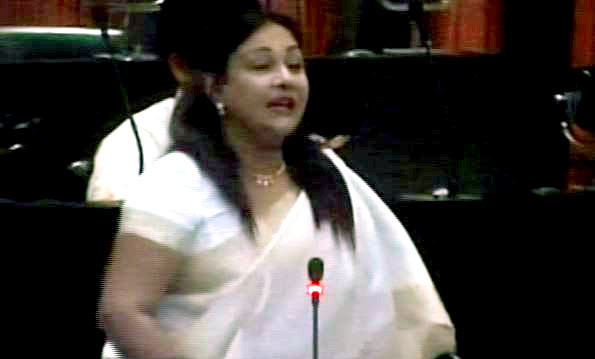 Parliament sessions came alive with amusement when UPFA MP Geetha Kumarasinghe spoke during an adjournment debate last evening with the MP making some sarcastic remarks on the government and the ruling party MPs heckling her.
The House became more noisy when some joint opposition MPs came to her defence when she was heckled by members from the government benches.
"I came to Parliament with a great expectation to respond to Prime Minister Ranil Wickremesinghe who invited me to join the government. I was waiting to say this to his face but I am sorry that he is not here today" she said.
"Anyway I am happy about the Prime Minister's invitation as he must have called me to join the government as none of his ministers are doing any good to the nation. " she added.
"May be the Prime Minister had suddenly developed a liking to me," she also said
She said Prime Minister has been saying he will implement the Deduwa tourism project for 17 years. But Ms Kumarasinghe said she will consider the premier's invitation if the government implement this project.
UNP MP Ajith Mannapperuma who responded said the Prime Minister did not invite Ms Kumarasinghe to enjoy her company but to work for the country. "Ms Kumarasinghe must have had too many at deputy minister Palitha Range Bandara's daughter's wedding" he added.
(Daily Mirror)