High quality petrol, diesel products to be introduced
Posted by Editor on May 17, 2013 - 8:26 am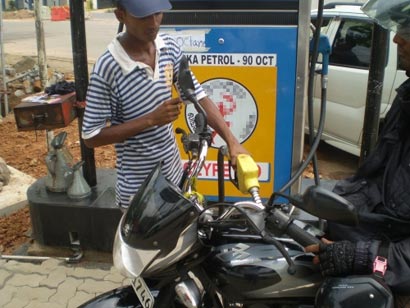 High quality petrol and diesel products will be introduced to the market to provide a more environment friendly service, said Petroleum Industries Minister Anura Priyadarshana Yapa.
Participating in an opening ceremony of a new fuel station in Panduwasnuwara,
Minister Anura Yapa said the minister has already provided directives to upgrade petrol products. According to these directives, Octane 92 and 98 petrol will replace the existing Octane 90 and Octane 95 petrol. Super diesel and European standard diesel products will also be introduced to the market.
"Environment pollution which is caused by the burning of fuel will be reduced with the introduction of new petrol and diesel products. Vehicle engine damages will also be reduced with the introduction of new petrol and diesel products."the minister said.
The minister will also make it compulsory to clean underground fuel storage tanks at fuel stations once in every two years to provide a high quality service. If fuel station owners are reluctant to do that, a new process of cleaning these tanks through the Ceylon Petroleum Corporation will be introduced.
The minister further said he will pay special attention about the irregularities in oil transportation. Technical equipment will also be equipped to avoid these irregularities.
The minister has already provided directions to the Ceylon Petroleum Storage Terminals Limited to monitor fuel transportation bowsers using a Global Position System.
"A proper methodology have been adapted for the establishment of new fuel stations with the support of the Moratuwa University. So hereafter, fuel station permits will be given with more transparency." he said.
Minister Yapa also said that several reforms in the petroleum industry is needed to enhance the efficiency of the Ceylon Petroleum Corporation and make it a government institution with competitive business aims.President Mahinda Rajapaksa will always extend his fullest support for these reforms in the petroleum industry.
(Courtesy: Daily News)
Latest Headlines in Sri Lanka