Hubby on strike; Maihtri at work
Posted by Editor on May 22, 2013 - 7:03 am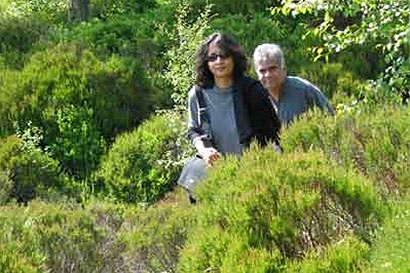 Prof. Maithri Wickremesinghe, wife of Opposition Leader Ranil Wickremesinghe reported for duty as usual at the Kelaniya University despite the so called 'island-wide' strike called by certain trade unions and organizations led by the UNP, JVP and TNA against the Government.
She arrived at the university in her motor-car at around 9.30 a.m, the usual commencement time and began lectures at the English Department of the Social Science and Humanties Faculty.
Apart from university duties, she holds a director post at the Centre for Gender Studies. It is reported that, she also attended to her duties at the Centre after her university work despite the ongoing strike organized by her husband, political parties and Trade Union groups.
The most significant fact is that she had attended to all her duties when members of the Federation of University Lecturers Association (FUTA) had announced that they would support the strike and would not be working. But Prof. Maithri Wickremesinghe had ignored all their calls and attended to her duties as usual.
Her husband and Opposition Leader Ranil Wickremesinghe had urged the public all through the week to refrain from going to work and to take to street to be part of their strike. Her decision means she had defied her husband's request and attended to her official duties as usual as if there was no such call to strike made by her husband.
The University students commended the decision of Prof. Maithri Wickremesinghe as she came forward to help students without being a part of the unsuccessful strike.
(Courtesy: Daily News)
Latest Headlines in Sri Lanka