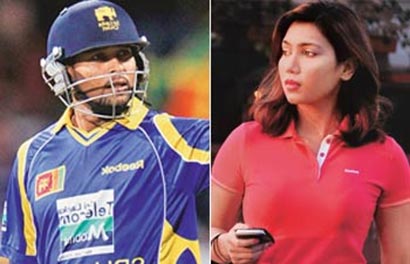 Starlet Nupur Mehta has added a new twist to the ongoing match-fixing allegations that have lately come her way. She now claims she was seeing Sri Lankan cricketer Tillakaratne Dilshan around the time of the 2009 T20 World Cup in England.
Nupur's new revelation comes in the wake of her recently admitting to The Sunday Times, London, that she met some international cricketers by chance at a London casino during the T20 tournament. Before that, she had denied knowing any cricketer and had even threatened to sue the daily for carrying her blurred image with a match-fixing report.
"I was seeing Dilshan and went to the casino with him but that does not suggest I am involved with match-fixing in cricket. That is my personal life and my relationship cannot be made the basis of such a big allegation. I am a single, attractive girl and have the liberty to move around in any part of the world and interact with whoever I want to," Nupur told Mail Today over the phone from Mumbai on Tuesday.
She also refuted having shared a room with anyone at the Royal Garden Hotel in Kensington, where the casino in question is located. The Sunday Times report had claimed that during the T20 tournament she was living at the hotel with a certain businessman who could have been a bookie.
"I was living at the Royal Garden Hotel in Kensington around the time but I wasn't sharing a room with anyone. I stayed at the hotel for a few days and paid my own bill at the rate of £500 per day. I have bills to prove my claim," Nupur said.
"All I knew is that several cricketers were living in the same hotel but I did not know who they were. There was no way for me to know even if Sachin Tendulkar was living in the room next to mine," she claimed.
Asked about the international cricketers she met at the London casino, Nupur categorically refused to take names. "I can mention Dilshan's name because I was seeing him at the time. Why should I drag the names of other cricketers in the whole issue? I had just met them socially," she countered.
She ALSO took a jibe at The Sunday Times report, saying: "I have been told they plan to do another story on me and my lifestyle, which is not right. I think this journalist Mazhar Mahmood (who broke the match-fixing story) is in love with me. He has made me famous in more than 16 countries with his report and I have been getting calls from places in South Africa, New Zealand and other countries.
"I have no fear because I am clean. That is the reason I am freely talking to the media. If I was involved, I would have fled the country just like the two bookies whose names have cropped up. Still, it's amazing how a journalist has cooked up the story."
One would, of course, be curious as to why Nupur was staying in London – that too at the very hotel where the cricketers were putting up – at the time of the matches?
"My brother lives in the UK and I often visit the country to meet him. I have worked as a model in several European countries and I often visit London for shopping," she said.
Nupur, a little-known Bollywood starlet – who did a forgettable role in the 2005 Sunny Deol dud Jo Bole So Nihaal, shot to fame last week after the London daily ran a photo of hers from the film with the face pixellated alongside a story about match-fixing during the 2011 India-Pakistan World Cup semi-final and the English county matches.
"My question to the British newspaper is, so what if I was in theLondon casino mentioned, and so what if I met cricketers there? This does not prove I was involved with fixing matches in any way," Nupur said.
"They (The Sunday Times) should back their claim with substantial proof. If they claim I was interacting with cricketers to fix matches, why don't they at least produce my pictures with cricketers as evidence? Why did they use a blurred film still of mine in their report? The picture they used is freely available on Google," Nupur said.
The starlet has hired two lawyers to file a defamation case against the British paper. Delhi-based Gaurang Kant and Associates will file a case while a Londonbased lawyer will sue the daily in the Civil Court of London for character assault.
"Their allegations only strengthen my legal case against the paper. They have been discussing my personal life in print despite the fact that it has nothing to do with match-fixing. I will be filing a case because the newspaper has used my picture not once but twice after lifting it off the net," she said. Meanwhile, Nupur has come up with a conspiracy theory on why the British daily carried such as report.
"The truth is that England, the country that invented cricket, is ashamed of the fact that it could not perform well in the World Cup. The country lost miserably and now they are cooking up these match-fixing theories," she claimed.