I HAVE APOLOGISED TO MAHELA, THILAN, SANGA FOR ANY PAIN OF MIND: MAHINDA ABEYSUNDERA
Posted by Editor on March 7, 2011 - 12:28 pm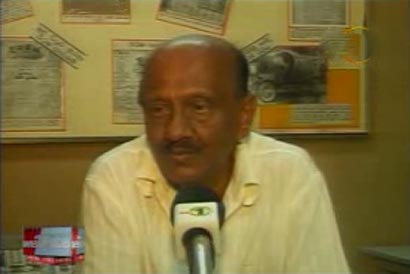 Mahinda Abeysundera, in the midst of a controversy for his television feature 'Vimasuma' for which he himself had written the script, had expressed regret for the whole episode.
He said he had apologised to everyone who had faced embarrassment as a result of his programme.
Abeysundera telephoned the Newsfirst news studio this morning and sought an opportunity to tell his side of the story in the controversial episode on cricket and cricketers.
Newsfirst, that strictly maintains a balanced and unbiased stance in news reporting, readily agreed and offered the opportunity to Mahinda Abeysundera to tell his side of the story.
"For 15 years, I have been doing the 'Vimasuma' programme, which was earlier titled 'Viparama'. On the 27th, what was expressed in the programme regarding the Sri Lanka – Pakistan match were my views.
"I very clearly said that for a moment I thought that Mahela and Thilan could not score because they wanted to change the game.
"I have sent a letter to Mahela Jayawardena, Thilan Samaraweera and Kumar Sangakkara apologising for any pain of mind if my views had been misinterpreted in a negative manner," said Mahinda Abeysundera.
He also said that in his 'Vimasuma' programme, a segment was taken to provide entertainment to the public.
Abeysundera also said that he would extend a sincere and humble apology to the cricket loving viewers if his views had caused them pain of mind.
Courtesy: News First
Latest Headlines in Sri Lanka