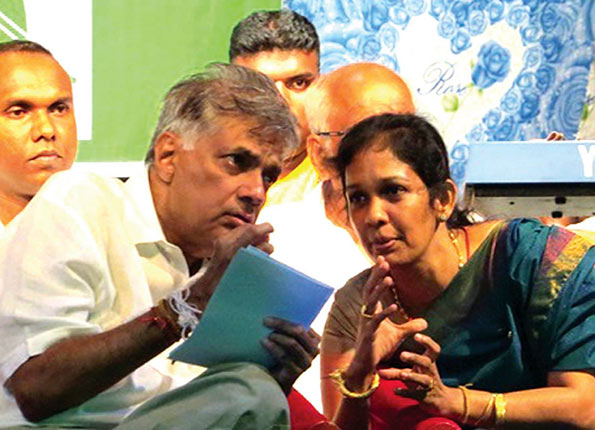 Deputy Women's Affairs Minister Vijayakala Maheswaran while insisting that her vehicle did not carry a poster exhibiting the Tamil Eelam map yesterday said that she has never supported the call for Tamil Eelam.
Maheswaran in a media release over the complaint which is said to have been made to the Elections Commissioner said she has never used such a vehicle for her election-related activities.
"I am told that there is a complaint against me to the Election Commissioner's Department stating that I was using vehicle No 65-9815 for my election campaign work, with a poster exhibiting Tamil Eelam map," she said.
She insisted that she does not have such a vehicle. The Deputy Minister added that she strongly believed in a solution to the racial problem.
The Deputy Minister's full statement: "I deny that the above vehicle is not mine and not hired or rented out by me for election campaign work. Furthermore, I never supported the call for Eelam. I strongly believe that the solution to the racial problem, if anyone in our country should be found within a united Sri Lanka. Hence, I have no connection with any Tamil Eelam Map referred to. I strongly and categorically deny that the vehicle No 65-9815 is not used for my election work and I never exhibited any poster or cut-outs of Tamil Eelam map.
"In the Jaffna Peninsula, mass support is booming day-by-day to me. The floating votes are also turning to our side. Evil elements are unable to bear this and these malicious elements are indulging in false propaganda.
"A map of Sri Lanka which highlighted Tamil homeland and a photograph of a candidate of our standing against the background was fabricated and damaging propaganda in the South of Sri Lanka. Their intention is to create communal disharmony in the minds of Sinhala masses.
"In the internet social media also similar Sri Lanka maps are appearing connecting me personally. All these actions are the work of mischievous elements, who are unable to stomache the increasing support, I am receiving from the ordinary masses. We never supported the call for Eelam and we will not do so. We completely disclaim these cooked up picture of Sri Lanka and the propaganda thus created.
We whole heartedly condemn these baseless propaganda. Our policy is to live as equal citizens along with Sinhala people with united Sri Lanka.
"Further I have been quoted by High Priest of Naga Vihara as having said that under the UNP rule all police stations in the North would be closed.
"According to the newspaper this is alleged to have been made at a meeting in Colombo by the Priest of Naga Vihara.
"I have never made such a statement and no person in proper sense will make such statement. This is another action by mentally deranged persons. I highly condemn this action, who try to damage my good image".
(Daily News)