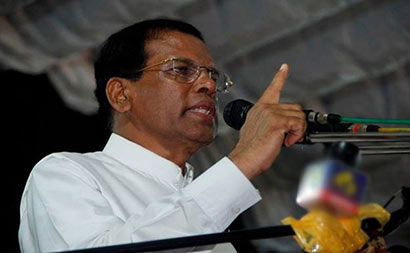 Opposition Common Candidate Maithripala Sirisena while addressing an election rally expressed that he has no faith or belief in astrologers or personal horoscopes.
He also accused the astrologers of scaring the general public by spreading false rumors. "Now some astrologers attempt to tell omens on me. They would tell you nothing, but lies," he added.
Maithripala also challenged President Mahinda Rajapaksa for an open debate on the topic 'Good good governance principles and democracy.' "I invite the President to have the debate with me on 1 January, 2015" he said.
Quoting some news stories published in media recently, he also pointed out that he never said he would restrict President Rajapaksa from leaving the country. "My point was that no one who engaged in frauds, misuse of government property, or corruption would not be allowed to leave the county, under our ruling," Maithripala added.
Responding to a recent allegation raised by the President of his failure to probably maintain the Health Ministry, he accused the President of appointing his (President's) allies and friends to the higher posts of the Ministry, what he explains as an alleged conspiracy to sabotage his works.
(Ada Derana)