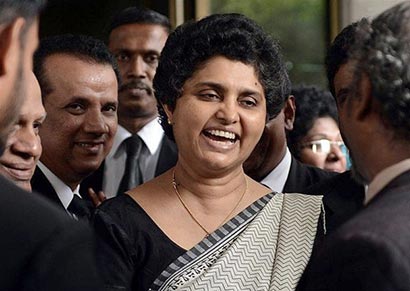 Impeached Chief Justice Dr. Shirani Bandaranayake yesterday said that she would not support any candidate vying for the presidency.
Addressing the media outside the Colombo Chief Magistrate's Court after appearing in a case filed against her by the Bribery Commission, Dr. Bandaranayake said she would not enter politics because she still considered herself the country's Chief Justice.
She said that she did not believe it was appropriate for a public servant to publicly campaign for any particular candidate. "I am not a politician. I will not enter politics."
Dr. Bandaranayake said that she was innocent. She had been barred from traveling overseas and was not paid her salary. Today there is a lot of talk about showing gratitude but this is the way in which those who are in power have chosen to show gratitude to me for my 32 years of honest service," Dr. Bandaranayake said.
(The Island)