I WILL ABIDE BY SC RULING – PRESIDENT
Posted by Editor on December 10, 2018 - 8:48 am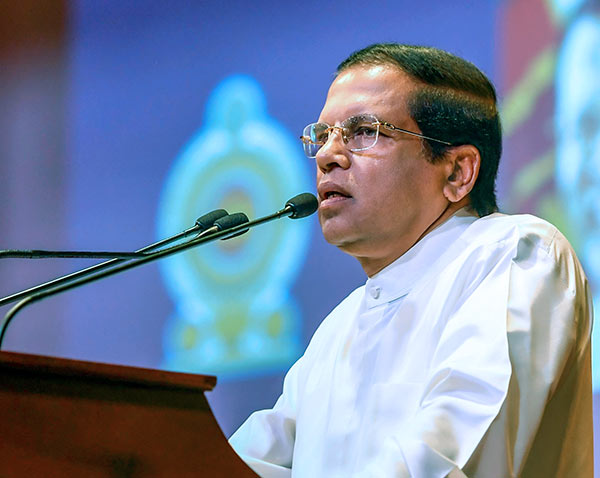 President Maithripala Sirisena said that he will honourably accept whatever ruling given by the Supreme Court on the petitions filed against the Gazette notification issued by him to dissolve Parliament and take future political actions according to it.
He said he is not happy about the administrative process vested in the President as a single individual under the Constitution as it should not be so in a country, with strong democratic traditions. He expressed confidence that this situation would soon change enabling him to work with a Prime Minister and a Cabinet of Ministers.
He said that he acted in a very responsible and patient manner in a country without a functioning Prime Minister and a Cabinet of Ministers within the last few days.
The President expressed these sentiments addressing the gathering at a programme held in Polonnaruwa on December 9.
The President who described the current political crisis as a problem among political parties added that certain people are attempting to interpret it as a problem between him and Ranil Wickremesinghe.
The President however described this as a clash between an indigenous and foreign philosophy and added that when one implemented the philosophy of rising up independently through self-reliance without succumbing to foreign pressures, foreign forces would naturally become a challenge.
"This was a matter which should be understood by the people," the President added.
The President said he was certain that all the people who loved the country would take decisions favourable to the motherland.
The programme was held at the Polonnaruwa Royal College hall to mark the distribution of livelihood development equipment for 2018 under the Pibidemu Polonnaruwa District Development Programme Equipment valued at Rs. 294 million were distributed among 4,500 beneficiaries at this event. former NCP Chief Minister Peshala Jayaratne and Polonnaruwa UC Chairman Chanaka Sidath Ranasinghe were also present on the occasion.
(Source: Daily News)
Latest Headlines in Sri Lanka