I will not step into this office after Presidential elections; anybody can conduct the elections – Election Commissioner exclaims in disgust
Posted by Editor on January 19, 2010 - 3:34 pm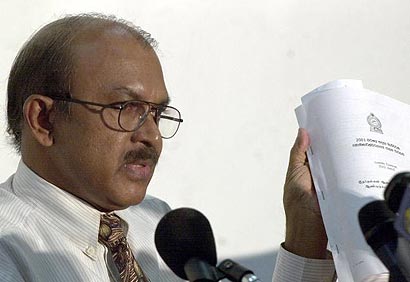 Lanka E News
The Elections Commissioner Dayananda Dissanayake at a meeting today (19) with the political party secretaries and representatives said, as the State media are not abiding by his orders, and undue pressures are being brought on the competent authority appointed by him, he had relieved the competent authority of his duties with effect from midnight yesterday (18).
The Elections Commissioner said that he is in utter disgust as the State media had totally disregarded the competent authority.
The Commissioner had stated that after this Presidential election he will be relinquishing his duties, and he has taken this decision irrespective of who agrees or disagrees. In future any body can hold elections or withhold from elections, he added. He declared that there will not be an election conducted after this under him as Commissioner.
When UNP Gen. Secretary complained about the collection of IDs of the samurdhi recipients, the Commissioner replied he cannot take measures for the protection of a handful. However he will announce his measures on the 25th. This is because, if he announces earlier, counter measures could be taken by the unscrupulous parties, he pinpointed.
Attorney at Law Nalin Ladduhetti who appeared on behalf of Presidential candidate Lal Perera said, the Commissioner's decision not to step into the office after the elections is good, but it is better if he does not step into it even before elections because he is the most corrupt Elections commissioner ever to have come into that position.
The representatives and Secretaries told the Commissioner that he should tell all his grievances not to them but openly to the public. If you are unable to carry on it is your duty to expose that and those who are violating the laws, they further pointed out.
Latest Headlines in Sri Lanka