If he made such statements during era of kings Fonseka would have been killed – Wimal
Posted by Editor on September 4, 2017 - 10:58 am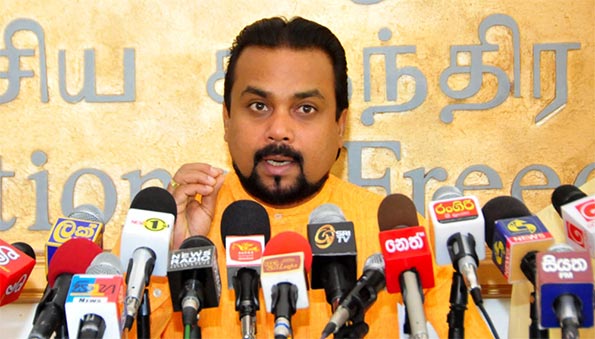 Minister Sarath Fonseka would have been killed in a gruesome manner, for his treacherous statement about former Army Commander Jagath Jayasuriya, if he lived in the time of the kings, National Freedom Front (NFF) leader Wimal Weerawansa told the media yesterday.
Fonseka had told media that he was ready to testify against Jayasuriya, who is being accused of war crimes, stating that he has also received information that the former Army Commander was involved in human rights violations.
"Fonseka was the Army Commander at the time Jayasuriya is accused of violating human rights. What kind of person betrays an officer that worked under him? Imagine the mindset he has. If he made a statement like this during the time of the kings he would have been killed," he said.
Weerawansa added that he would not be surprised if Fonseka accuses other Generals of human rights violations, stating that he has evidence against them.
"Every other General has violated human rights norms, according to him. He has been the only good guy. Heis acting like this because of personal grudges. He is willing to even jeopardize the reputation of the country he was born in because of his personal animosities," the NFF leader said.
(Source: Ceylon Today – By Rathindra Kuruwita)
Latest Headlines in Sri Lanka