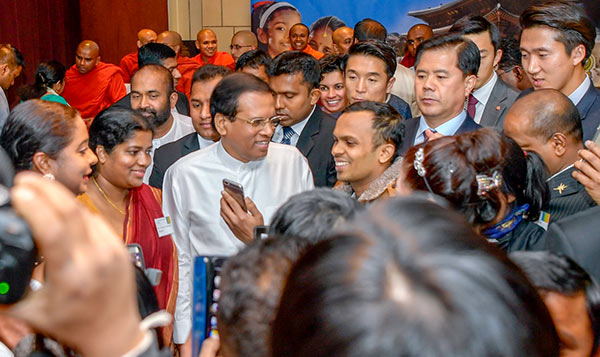 President Maithripala Sirisena assured to the Sri Lankan community in South Korea that he would never betray the nation or the country. Addressing the Sri Lankan community in Republic of Korea, he said that he came to power with the pure intention of rectifying the historical errors and to ensure that the people of Sri Lanka would live in peace, harmony and communal coexistence.
Addressing the Sri Lankan community in South Korea he narrated the events leading to his decision to be the common candidate at the Presidential Election of 2015 and said his desire is to fulfill the mandate given to him by the people, despite the hurdles and challenges come across.
The meeting with the Sri Lankan community was held at the Nam San Hall at the Grand Hyatt in Seoul, today (28).
The office bearers of the Sri Lankan associations thanked the President for meeting them and clarifying issues. They also expressed gratefulness for President Sirisena's initiative to sign an agreement with Korean Government to introduce a work permit system for Sri Lankan workers in Korea.
The President recalled the unexpected warm welcome from Korean President Moon Jae-In today at the Jogyesa Temple and said that it is evident for his affection for Sri Lanka and its people.
During this meeting the President also launched the new website of the Embassy of Sri Lanka.
Ministers Dr Sarath Amunugama, Tilak Marapana, Daya Gamage,Ranjith Siyambalapitiya, Malik Samarawickrema and Thalatha Athukorale, Ambassador Maneesha Gunasekera, and senior officials also participated in this event.
(President's Media)