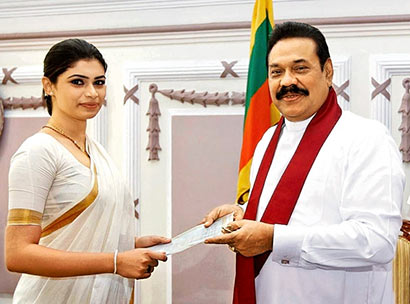 FILE PHOTO –
Kicking off her political campaign in a bold and determined note confronting her rivals, the newly-appointed Sri Lanka Freedom Party (SLFP) Colombo Central Organiser Hirunika Premachandra today said no-one could separate her from President Mahinda Rajapaksa as she was his adopted daughter.
Ms. Premachandra who was speaking at a SLFP Bala Mandala meeting at her residence in Kolonnawa today morning said she was an adopted daughter in the Rajapaksa family.
"I am the adopted daughter of President Rajapaksa's family and the sister of MP Namal Rajapaksa and no-one can separate me from them," she said.
She said she had told President Rajapaksa to summon her at any time if he received a complaint about her, so that she could respond.
Ms. Premachandra said that her future would be a challenging one when it comes to politics. "I have faced lots of obstacles, and will have to face more in the future, but that will not pull me down," she said amidst loud cheers from her supporters.
She said many had asked her why she was so adamant about the killing of her father-the late Presidential advisor and former MP Bharatha Lakshman Premachandra-and stressed that she wouldn't be silent until the killers were brought to book.
"I cannot bear the painful feeling I experience whenever I meet my father's killers. and that is why I cannot keep quiet about it," she said.
She told the gathering that her campaign would be like the tortoise in the famous folk-tale that moved towards its goal slowly but steadily, unlike the rabbit that started running only when it saw its opponent was at the threshold of victory.
"I will move slowly but steadily like the tortoise unlike the rabbit," she added.
(Courtesy: DM Online)