I'm common Candidate
Posted by Editor on October 12, 2014 - 10:44 am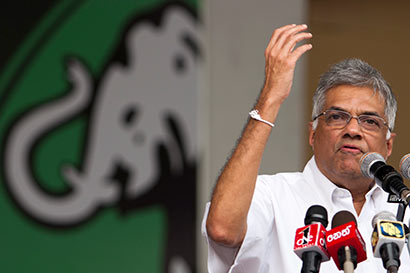 The UNP, on Friday, proposed and seconded Party Leader Ranil Wickremesinghe as the common candidate from the single largest Opposition political party. When the 20-member committee, appointed to assist in the presidential election, met, deputy leader Sajith Premadasa asked Wickremesinghe whether he could confirm his intention to be the Party's presidential candidate. The UNP leader agreed and Premadasa told the committee that the entire Party machinery should move into action immediately to support the leader and organization at grass roots level should begin forthwith.
Party General Secretary, Tissa Attanayake, seconding the proposal, said the members should give up double agendas of planning to support a common candidate from the Opposition as the Party leader would now be the common Opposition candidate from the largest Opposition political Party.
UNP Assistant Leader, Ravi Karunanayake, chipped into say that the party should wait and watch the developments in other political Parties before announcing Wickramesinghe's candidacy at the next presidential poll.
Premadasa asserted that there was no need to waste time unnecessarily looking up at the sky or be guided by flimsy excuses as it was now clear that Wickramesinghe will contest Rajapaksa. 'Why should we keep the voters guessing all the time? The UPFA has announced the President as their candidate. The People should know that our leader is the UNP candidate to get ready," he pointed out.
He warned against making any changes but to back Wickremesinghe with all hearts and souls to ensure the victory of the Party leader. "From the beginning it was me who wanted a UNP candidate at the next presidential poll. Now we have our Party leader agreeing to enter the contest. If any change is made, I will not be on any presidential election platform. I will go back to Hambantota to look after my party activities there," Premadasa asserted.
The committee approved the proposal unanimously and Attanayake announced he would immediately go ahead with the organizational structure to face the polls.
Meanwhile, a meet between Ven. Maduluwawe Sobhitha Thera and Wickramesinghe was scheduled yesterday but called off as the latter was indisposed.
An aide of Wickramesinghe, at his Charles Drive residence, who answered the telephone, said the UNP leader was indoors yesterday, as he was indisposed. Sources close to Ven.SobhithaThera said the scheduled meet between the Thera and Wickramesinghe did not take place and the prelate left to pay respects at a funeral in the afternoon.
(Ceylon Today)
Latest Headlines in Sri Lanka