India batsman Yuvraj Singh diagnosed with lung cancer
Posted by Editor on February 6, 2012 - 1:56 pm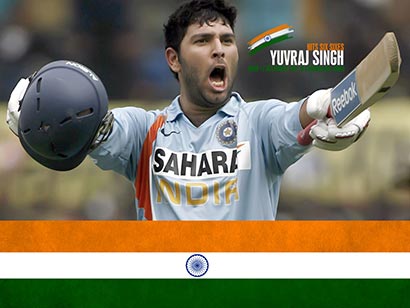 India all-rounder Yuvraj Singh is undergoing treatment for cancer in the United States, his physiotherapist Jatin Chaudhary has confirmed.
In 2011 the 30-year-old was diagnosed with a non-malignant tumour of the lungs but further tests revealed cancer and he is now undergoing chemotherapy.
Chaudhary said the cancer is at a dangerous place but is curable.
"It is a rare tumour and is cancerous but it has been detected in stage one itself," Chaudhary said.
The left-hander, who played county cricket for Yorkshire, posted on his Twitter account last month that he would seek inspiration from Lance Armstrong,  the cyclist who won multiple Tour de France titles after being treated for testicular cancer.
"Reading Lance Armstrong's book, it's not about the bike! I'm sure it will motivate me and pull me through this time! Livestrong Yuvstrong!," he wrote on the social networking site.
Yuvraj's health first deteriorated during the World Cup last year, in which he was the man of the tournament, helping his country win the trophy for the first time since 1983.
He missed the tour of West Indies last year but featured against England at Trent Bridge before flying home with a broken finger.
He played in the two Tests of their home series against West Indies in November before being dropped for the third Test.
Chaudhary added: "Doctors had to decide whether to continue medication or go for chemotherapy. Since parts of the tumour are just above the artery of his heart, there was a danger it could burst if he did any running. But it is 100% curable.
"The doctors decided that he will have to undergo chemotherapy and he travelled to the US on 26 January. At the end of March, he will undergo a CT scan and should have recovered by then.
"After that it is just some rehabilitation in April before he is fit to be back on the field in May.
"Thankfully no surgery is required, he is already a lot better than what he was and can't wait to be back on the cricket field."
Chaudhary also said the delay in treatment was due to a wrong diagnosis by a hospital last year.
"His first biopsy report was stolen from his car and the second from a hospital. I don't want to name [anyone involved] but they did not give the correct diagnosis," he said.
"It was a Russian doctor who detected the cancer and, after consultations with doctors in the US, it was decided Yuvraj would undergo chemotherapy."
BBC
Latest Headlines in Sri Lanka