India Plans To Restart World War-II Era Oil Tanks In Sri Lanka
Posted by Editor on May 4, 2017 - 7:21 am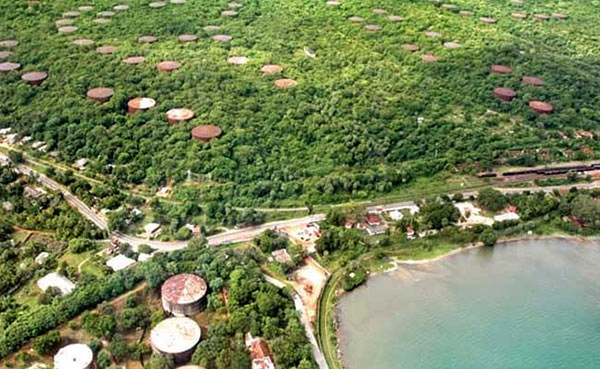 The Sri Lankan government yesterday said it will go ahead with its plans to strike a deal with India to jointly operate a strategic oil facility in the eastern port district of Trincomalee despite opposition from other parties. "Suddenly objections are being raised for a deal which has been coming since 2002," Finance Minister Ravi Karunanayake told Parliament, referring to a recent trade union strike which completely halted the fuel distribution in the country for a day.
The state petroleum entity's trade unions staged the strike against the proposed deal with India over the oil tanks.
They, however, ended strike after an assurance from Prime Minister Ranil Wickremesinghe. The unions had demanded an undertaking from Wickremesinghe that during his visit to India that week he would not sign any agreement on the oil tanks.
Karunanayake said that work to form a joint venture company to operate and manage oil storage tanks in Trincomalee under a 50-year lease agreement would go ahead.
The reference was to a proposed deal to start a joint venture with India to utilise the World War II-era oil tanks. At least 73 of the 99 storage tanks in Trincomalee is to be managed under a new equity arrangement between India and Lanka.
In 2002, the Indian Oil Company was given 14 of the 99 tanks to operate. Sri Lanka and India signed an MoU on economic co-operation in the presence of Prime Minister Narendra Modi and his Lankan counterpart Wickremesinghe in New Delhi last month.
Former president Mahinda Rajapaksa has accused the Lankan government of selling state assets without naming India.
Addressing a May Day rally in Colombo this week, Rajapaksa, who leads the Joint Opposition camp, said that Trincomalee's oil tanks preserved as national asset by successive governments since independence are to be sold.
"This is a government which auctions all national assets," Rajapaksa said.
One of Rajapaksa' main backers Wimal Weerawansa, a former minister, called for raising of black flags during Modi's visit to Lanka next week.
"They are trying to sell our country to India," he told the rally.
Modi is due to visit Lanka on May 12 to attend the UN Vesak Day, which commemorates the birth, enlightenment, and death of Buddha.
The opposition claims Modi is to sign the oil tank deal during his visit despite President Maithripala Sirisena rubbishing it as misinformation.
Modi would only attend the UN 'Vesak Day' celebrations and no bilateral agreements will be signed during his visit to Lanka, President Sirisena said last week.
(NDTV)
Latest Headlines in Sri Lanka