India seeks 'positive transformation' in bilateral ties during Sri Lanka President's upcoming visit
Posted by Editor on July 12, 2023 - 8:37 am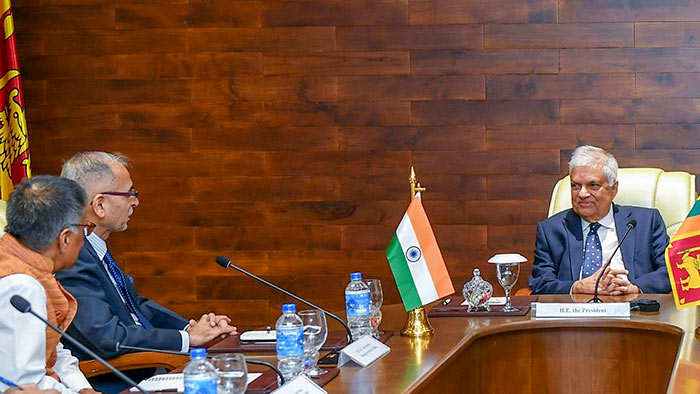 India is seeking a "positive transformation" in its ties with Sri Lanka, Foreign Secretary Vinay Kwatra said, following a meeting with President Ranil Wickremesinghe in Colombo on Tuesday (July 11).
In a visit aimed at laying the groundwork for Mr. Wickremesinghe's upcoming trip to New Delhi on July 21 his first official visit to India since becoming President under extraordinary circumstances a year ago Mr. Kwatra said he discussed ties across "the entire matrix of economic partnership" between the two countries.
"My discussions earlier today with the Sri Lankan leadership, as also with the Foreign Ministry, were essentially focussed on trying to ensure that the upcoming visit of President of Sri Lanka is actually a point of positive transformation in the relationship," Mr. Kwatra told local media.
He called Mr. Wickremesinghe a "very strong supporter" of the relationship and said India aimed to make his visit a "huge success".
In a statement issued on Tuesday, the Presidential Media Division said Mr. Wickremesinghe briefed the Indian Foreign Secretary on the government's economic reform programme.
"He also acknowledged India's continuous support as a neighbouring ally during the recent economic crisis," it said.
The Sri Lankan President's visit to India later this month assumes significance against the backdrop of India extending nearly $4 billion dollars to the island nation at the peak of its economic crisis last year.
India was also Sri Lanka's first bilateral creditor to offer written financing assurances to Sri Lanka, ahead of a crucial $3 billion package from the International Monetary Fund (IMF).
Sri Lanka is currently negotiating a debt treatment plan with its external creditors, including India, China and Japan. Further, Sri Lankan authorities have underscored the importance of Indian tourists and investment for the country's economic recovery.
Announcements regarding a long-discussed project to connect the island's energy grid with India's, and other joint initiatives in sectors including energy and dairy are expected around the visit, according to official sources in Colombo.
On Monday, Sri Lanka's Cabinet cleared a proposal for the two governments to sign a joint declaration of intent to achieve better quality of dairy production and self-sufficiency in the sector in Sri Lanka.
(Source: The Hindu – By Meera Srinivasan)
Latest Headlines in Sri Lanka