India, Sri Lanka ODI ends in dramatic tie
Posted by Editor on February 15, 2012 - 7:55 am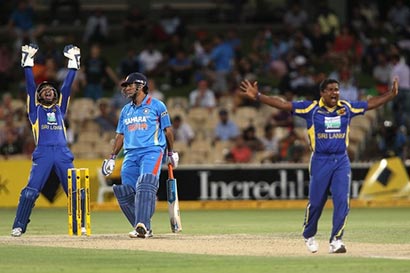 India and Sri Lanka finished in a sensational tie in their tri-series one-day international at the Adelaide Oval on Tuesday.
India skipper M.S. Dhoni needed to hit four runs off the last ball by Lasith Malinga but he only managed to scamper through for three runs to level the scores.
Both teams finished with 236 for nine from their 50 overs in a dramatic finale after India had needed nine runs to win off the final over.
Dhoni, who steered India to a final-over victory against Australia at the same ground last Sunday, failed to replicate that success as the Sri Lankans searched desperately for their first win of the tri-series.
"I looked to stay till the end," ice-cool Dhoni said.
"If you have a decent partnership you can stick it out. Malinga is very difficult to hit so we were looking to target (Angelo) Mathews.
"(The last hit) was a bit difficult here, but in India that would have been two bounces and four. When you need 10 or 12 in the last over your heart rate will always be up."
The tie was tinged by controversy with India facing one less delivery than they should have with the 30th over of their innings containing just five balls.
Dhoni was accepting of the mistake, saying: "There was a five ball over. In the past what we have seen is the third umpire interferes and you have to come back and bowl that ball.
"Usually that is what has happened to us, it didn't happen in this game — it's fair enough, nothing much can be done now."
The tie lifted India to the top of the tournament standings ahead of Australia, with Sri Lanka yet to win from their three games.
Dhoni finished unbeaten on 58 off 69 balls with one booming six and three fours, while opening batsman Gautam Gambhir was out in the 90s for a second consecutive innings after he was run out for 91 off 106 balls.
India looked poised to nudge past the plucky Sri Lankans in the final over but Ranganath Vinay Kumar was run out on the second-last ball by a direct throw as he tried to get Dhoni on strike.
Dhoni then faced a final ball tilt for a winning boundary only for Sachithra Senanayake to cut off the shot and enable India to take three runs and level the scores.
It was the first-ever tie between India and Sri Lanka in one-dayers and the 26th tied ODI match.
"When you have MS (Dhoni) batting through it was always going to be tough," Sri Lanka captain Mahela Jayawardene said.
"One ball four to get you to back yourself. But 230 probably wasn't enough. We dropped catches and misses run-outs. You always back Malinga to do the job."
Once again star India batsman Sachin Tendulkar failed to score his 100th international century and was dismissed for 15.
The 'Little Master" has now gone an agonising 28 Test and ODI innings and has has been stuck on 99 centuries since March last year.
Earlier, Dinesh Chandimal topscored with 81 as Sri Lanka reached 236 for nine off 50 overs.
Chandimal, 22, hit six fours and a six off 91 balls before he was run out and Sri Lanka, who won the toss, set India just over 4.7 runs an over to win.
Kumar Sangakkara scored just 31 off 56 balls with two fours before he was caught off a leading edge at mid-on from spinner Ravi Ashwin in the 20th over.
Jayawardene hit 43 off 49 balls and put on 94 for the fourth wicket with Chandimal before he was leg before wicket to Vinay Kumar in the 37th over.
Chandimal was out in the next over when batting partner Angelo Mathews went for a quick single to short cover only for Rohit Sharma to whip the ball back to wicketkeeper Dhoni to break the stumps.
Senanayake cracked 22 off 14 balls to remain unbeaten with Mathews (17) and Thisara Perera (5) out cheaply.
Vinay Kumar finished the best of India's bowlers with three for 46 off 10 overs, while Ashwin claimed two wickets.
Source: AFP / Pix by Getty Images

Latest Headlines in Sri Lanka