India: Terror attack kills 17, wounds 81 in Mumbai
Posted by Editor on July 14, 2011 - 8:32 am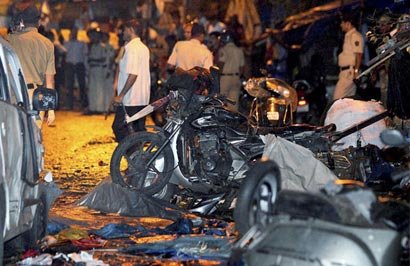 MUMBAI, India (AP) — Three coordinated bombings tore through the heart of India's busy financial capital during rush hour Wednesday, killing 17 people in the worst terror attack in the country since the 2008 Mumbai siege. The attacks came just months after peace talks resumed between India and Pakistan, which New Delhi has blamed for past attacks.
Blood-covered bodies lay on Mumbai streets and people hugged and wept. Others carried the wounded to taxis. Crowds gathered in the blast areas as police questioned witnesses, and bomb squads inspected the undercarriages of vehicles searching for clues and other explosives.
Motorcycles were charred, shopfronts shattered and a bus stop ripped apart. Bleeding victims crowded into the back of a cargo truck to be taken to a hospital.
The first blast struck the Jhaveri Bazaar at 6.54 p.m., tearing through the famed jewelry market. A minute later, a blast hit the busy business district of Opera House, several miles (kilometers) away in southern Mumbai. At 7:05 p.m., the third bomb exploded in the crowded neighborhood of Dadar in central Mumbai, according to police.
Because of the close timing of the blasts, "we infer that this was a coordinated attack by terrorists," Home Minister Palaniappan Chidambaram said, adding that Mumbai was put on high alert.
Prime Minister Manmohan Singh condemned the blasts and appealed to the people of Mumbai "to remain calm and show a united face."
Indian officials refused to speculate on who might be behind the blasts. Past attacks have been blamed on Pakistan-based militants, and Indian officials have accused Pakistan's powerful spy agency of helping coordinate and fund some of those strikes, including the Mumbai siege.
Pakistan's government expressed distress on the loss of lives and injuries soon after Wednesday's blasts were reported.
A U.S. official says there are no claims of responsibility, or firm indication of which terrorist group might be behind the attack yet. The official spoke on condition of anonymity to discuss matters of intelligence.
U.S. President Barack Obama also condemned the "outrageous attacks."
"The American people will stand with the Indian people in times of trial, and we will offer support to India's efforts to bring the perpetrators of these terrible crimes to justice," he said in a statement. "I have no doubt that the India will overcome these deplorable terrorist attacks."
At the site of the first bombing, Jhaveri Bazaar, a witness described two motorcycles exploding in flames and saw at least six bodies.
"People were shouting 'Help me, help me,'" the man told Headlines Today television.
Another witness showed cell phone video of several bodies sprawled across the street to the NDTV news station.
Prithviraj Chavan, the top official in the state of Maharashtra, where Mumbai is located, said the blasts killed 17 people and wounded 81 others.
"India is not going to cow down," Cabinet minister Farooq Abdullah said. "Let those perpetrators of this terror remember, we will find them and Inshallah (God willing) we will give them the justice that India believes in."
The blasts marked the first major attack on Mumbai since 10 militants laid siege to India's financial capital for 60 hours in November 2008.
That attack, which targeted two luxury hotels, a Jewish center and a busy train station, killed 166 people and escalated tensions between India and Pakistan. Peace talks were suspended and resumed only recently.
Some media incorrectly reported the blasts happened on the birthday of Ajmal Kasab, the only surviving gunmen from the 2008 Mumbai attacks. Kasab, who was sentenced to death in Mumbai, was born on Sept. 13.
The city has been on edge since the 2008 attack. In December, authorities deployed extra police on city streets after receiving intelligence that a Pakistan-based militant group was planning an attack over New Year's weekend. Police conducted house-to-house searches in some neighborhoods for four men who authorities believe entered the city to carry out a terrorist attack, and computer-aided photographs of the four suspects were released.
In March 2010, Mumbai police said they prevented a major terrorist strike after they arrested two Indian men, who, police said, were preparing to hit several targets in the city. In September, police issued a terror alert for the city during a popular Hindu festival.
AP
Latest Headlines in Sri Lanka