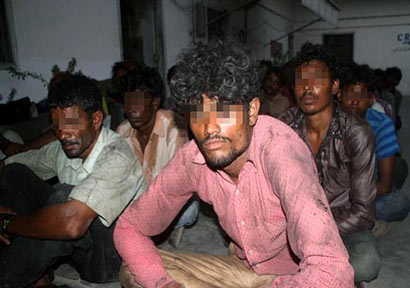 FILE PHOTO –
The Thermal Nagar police in Tuticorin district, which had arrested 59 Sri Lankan fishermen on charges of illegal fishing in Indian waters during September-November, are all set to file charge sheet against the fishermen before the Chief Judicial Magistrate (CJM) court in Ramanathapuram, Tamil Nadu.
The Tamil Nadu Government which had been releasing the Lankan fishermen, arrested for illegal fishing, expecting the Lankan government to reciprocate the gesture, appeared to have taken a tough stand now as the Thermal Nagar police has readied the draft charge sheet against the 59 fishermen.
Sources said that B.Suresh Kumar, Inspector of Police, Thermal Nagar Police Station, had prepared four sets of charge sheets against A.Kumar Vasu (45) and four others, A.Manoj (26) and 25 others, M.Gurukula Soorya Batta Penthike (55) and three others and B.Anil Dencil Fernando (38) and 23 others.
Charge sheets with details of ten trawlers seized by the ICG and now kept in the Tuticorin Old port are expected to be filed before the CJM court here after Christmas vacation. The fishermen, hailing from Negombo, Puttalam and Kalutara districts faced charges under sections 3/10, 7/14, 15(c) of the Marine Zone of India Act, 1981 and section 3(a) read with 6(a) of Passports (Entry into India) Rules, 1950. They were lodged in the Puzhal central prison and the CJM, on Friday, had extended their judicial remand till January 3.
They were apprehended by the ICG when they were found in Indian waters off Kanyakumari and later arrested by the Marine police. While five fishermen from Negombo were arrested on September 17, 26 fishermen from Puttalam district were arrested on October 9, 24 fishermen from Puttalam on October 30 and 4 fishermen from Kalutara district on November 6.
The Assistant Director (Fisheries) Fishing harbour management, Tuticorin had certified that ten trawlers seized from the fishermen were in good condition. In a related development, the CJM had visited the Tuticorin port last week and conducted a physical verification of the ten trawlers, each valued at several lakhs of rupees. (The Hindu)