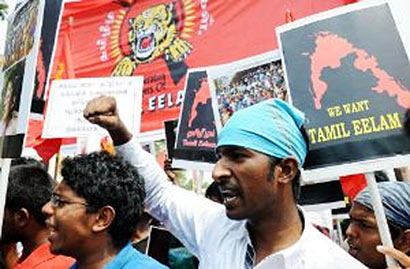 – Submitted by Walter Jayawardhana –
NEW DELHI: In a bid to placate departing ally, DMK, the UPA government played out a farce at the UN Human Rights Council (UNHRC), whereby India moved seven amendments to a US-sponsored resolution against Sri Lanka, and all of which were duly rejected by the US. In the end, India voted in favour of the final draft resolution that had been watered down, largely due to New Delhi's own efforts.
Pakistan voted against the resolution. Supporting Sri Lanka, the Pakistani envoy said they sympathized with Colombo which had "faced terrorism, funded and armed from abroad". It was a thinly-veiled attack on India, which frequently attacks Pakistan for cross-border terrorism into India.
On Wednesday, as the government struggled to keep DMK back and save the UPA, it had ordered ministry of foreign affairs to move seven amendments against Lanka along with the US and other sponsors. This came out of a meeting between PM, external affairs minister Salman Khurshid, finance minister P Chidambaram, national security advisor ( NSA) Shivshankar Menon, foreign secretary Ranjan Mathai and India's permanent representative to UN Dilip Sinha. These amendments were tough enough that would have ensured a serious downturn in Indo-Lankan ties.
These written amendments were rejected by the US and other sponsors, on the grounds that a tighter resolution would reduce the number of supporters for the resolution. Incidentally, the initial draft of the resolution took a tough line against Lanka. It needed a lot of quiet negotiations by Indian officials to water down the text of the resolution to make it reasonably acceptable to both New Delhi and Colombo.
For India to attempt to amend the resolution yet again, for domestic political considerations, is a new low in New Delhi's foreign policy.
Not content with the US rejection, the government then ordered that India move an oral amendment at the UNHRC on Thursday morning. On Wednesday night, Opposition parties had refused to accede to a government move to pass a parliamentary resolution against Lanka. That reduced the need for an oral amendment, particularly since India risked getting isolated in the Council, since it was unlikely that other sponsors would back the resolution.
In the end, India voted for the resolution that had been revised only a couple of days earlier. The resolution went through with 25 votes in favour (one more than last year), 13 against, eight abstentions and Gabon, which was absent. The countries that stood with Sri Lanka included eight Asian nations, two from Latin America and three from Africa.
In a swift reaction, Lankan government announced it would take back some of the tanks from the Indian Oil Corporation's strategic reserve facility in Trincomalee. Lankan information minister Keheliya Rambukwella on Thursday announced plans to retake unutilized tanks from Lanka IOC.
In its intervention at the UNHRC, Indian envoy, Dilip Sinha said India "… call on Sri Lanka to move forward on its public commitments, including on the devolution of political authority through full implementation of the 13th Amendment." In its strongest stricture to Colombo yet, Sinha said, "We urge Sri Lanka to take forward measures to ensure accountability. We expect these measures to be to the satisfaction of the international community." For those who follow texts carefully, this was a stronger formulation than an "independent investigation" but weaker than an "international" investigation.
On Thursday, India risked close ties with a next-door neighbour, and may have pushed Colombo further into the arms of China.  (Courtesy: Times of India)