Resolution against Sri Lanka passed
Posted by Editor on March 22, 2013 - 8:54 am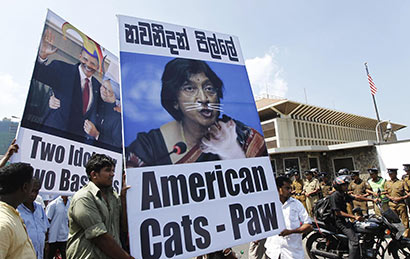 The United Nations Human Rights Council (UNHRC) yesterday adopted the second US sponsored resolution against Sri Lanka, titled 'Promoting reconciliation and accountability in Sri Lanka', at the conclusion of the 22nd sessions in Geneva. It was sponsored by 41 countries.
The US is a member of the 47-member UNHRC council divided into five regional groups.
Of the 47-member council, 25 countries voted for the resolution, 13 against, eight abstained and one was absent.
Of the South Asian Association for Regional Cooperation (SAARC) members in the UNHRC India voted with the US, while Pakistan and the Maldives sided with Sri Lanka.
The first US resolution was adopted last year with 24 voting for 15 against and eight abstentions. India voted for that resolution, too.
Addressing the UNHRC, Indian envoy Dilip Sinha emphasized that Sri Lanka should address accountability issues to the satisfaction of the international community. Making a strongly worded statement, Sinha declared: "We call for effective and timely implementation of all the constructive recommendations contained in the LLRC report, including those pertaining to missing persons, detainees, disappearances and abductions, reduction of 'high security zones', return of private lands by the military and withdrawal of security forces from the civilian domain in the Northern Province. We reiterate our call for an independent and credible investigation into allegations of human rights violations and loss of civilian lives. We urge Sri Lanka to take forward measures to ensure accountability. We expect these measures to be to the satisfaction of the international community."
The Indian government threw its weight behind the US resolution in the wake of DMK threatening to quit Premier Manmohan Singh's ruling coalition unless it supported the US move. However, in spite of heavy domestic as well as western pressure, Malaysia abstained.
The Pakistan envoy alleged that the draft resolution against Sri Lanka was overly intrusive and interfering, adding that Pakistan was appreciative of Sri Lanka's efforts to foster reconciliation and its continuing efforts to update the council on steps being taken in this regard. The envoy while recalling how Sri Lanka had suffered for many years from 'externally sponsored terror' said the country needed more time to right all the wrongs that had been perpetuated on it.
He added that Pakistan was of the opinion that country specific resolutions must be of a constructive nature to bear any fruitful results, and that the Sri Lanka resolution was not an example of such a resolution. (Courtesy: The Island)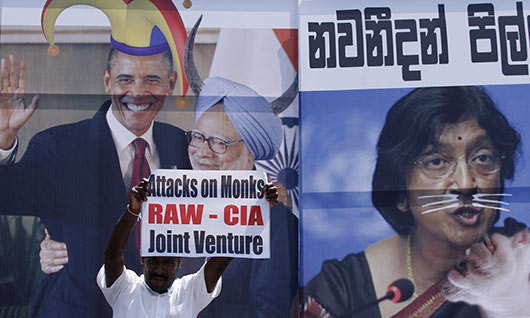 Latest Headlines in Sri Lanka