India vows to spoil Murali's finale
Posted by Editor on July 17, 2010 - 1:59 am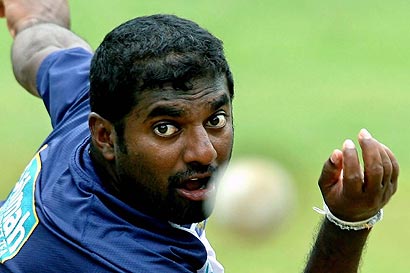 GALLE: India is determined not to join the party as Sri Lanka celebrates World record wicket-taker Muttiah Muralitharan's final cricket Test appearance in Galle from Sunday.
The off-spinner, 38, will retire after the opening contest of the three-match series at the Galle International Stadium, in which he needs eight scalps to reach the unprecedented 800-wicket mark in Test cricket.
Local fans want Muralitharan to claim those eight wickets and lead Sri Lanka to victory in what will be a fitting end to a remarkable, but controversial, 18-year Test career.
However, Indian captain Mahendra Singh Dhoni said his World No. 1 team will not allow Muralitharan — who is commonly known as Murali — to have it all his way.
"Good luck to Murali, but we are here to win," said Dhoni, who teams up with the Sri Lankan in the Twenty20 Indian Premier League for current champion Chennai Super Kings.
"We all know Murali is a great bowler and his achievements speak for themselves. More importantly, he is also a great human being and I cherish his friendship. However, this is Test cricket and we do not intend to give our wickets easily. Our batsmen would like not to give him the opportunity to reach 800 wickets during the first Test.
The 132-Test veteran, the most successful bowler in history with record hauls in both Test (792) and one-day (515) cricket, said last week he was retiring from the longer version since he had nothing left to strive for.
"I have achieved what I wanted to achieve. There is nothing left or any target to reach," he told reporters at the announcement of his decision to quit Tests.
Muralitharan had earlier talked of retiring after the home series against the West Indies in November, but changed his mind because he "did not want to keep so many talented youngsters waiting."
Local media reports said Muralitharan preferred not to wait till the end of the India series because he was unsure of being able to manage the workload of an entire series.
Sri Lanka Cricket, eager to give Muralitharan a fitting farewell, has invited all past Test captains and those who played alongside him to witness his final match.
Officials have also planned ceremonial presentations to the spinner both at the start of the match and after it, hoping Muralitharan will sign off in style.
The off-spinner's track record at the Galle International Stadium indicates he may not have a problem reaching the 800-wicket mark.
Muralitharan has claimed 103 wickets in the 14 Tests he has played against all opposition at Galle, 13 of them against the Indians in two matches.
India's batsmen, led by World record-holder Sachin Tendulkar, are reputed to play spin well, but Muralitharan grabbed 21 wickets in three Tests in the last home series in 2008 to lead Sri Lanka to a 2-1 win.
Muralitharan's controversial bent-arm action — the result of an elbow deformity since birth — has helped him impart considerable turn and bounce to wreak havoc with the ball.
The off-spinner has claimed five wickets in an innings an astonishing 66 times, almost double the hauls of second-placed Australian Shane Warne, who has done it on 37 occasions.
Muralitharan has taken 10 wickets or more in a Test 22 times. Warne, who follows the Sri Lankan in the all-time list with 708 wickets, has managed that only 10 times.
"Let's all enjoy the moment," said former Test batsman Aravinda de Silva, who is now the chairman of selectors. "There will not be a Murali again." — AFP
Latest Headlines in Sri Lanka