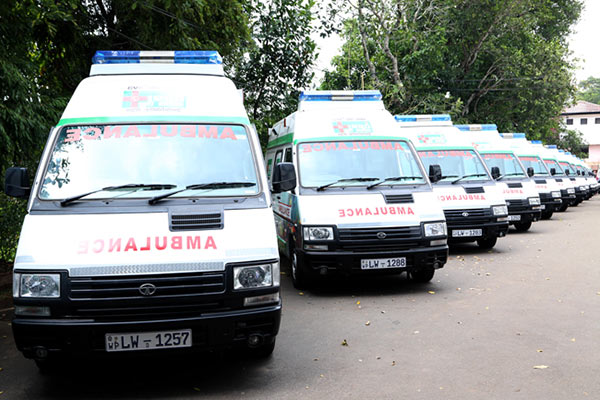 Indian Prime Minister Narendra Modi yesterday said that the 1990 emergency ambulance service, provided by his Government and which is currently operating in the Western and Southern Provinces will be expanded throughout the entire country.
Modi, who is on an official visit to Sri Lanka, yesterday visited Dickoya to inaugurate the new ward complex of the Dickoya District Base Hospital that was built with Indian assistance. He is the first Indian PM to visit the area.
After the inauguration ceremony the Indian PM told a massive gathering, at the Norwood Public Ground, that in addition to the current project to build 4,000 houses for the hill country residents, his government will also fund the construction of another 10,000 houses for the plantation community.
"The Indian Government is also happy to continue with contributions in order to improve the living conditions of the plantation community. Also, India fully supports the Sri Lankan President and Prime Minister to carry out their social and economic development programmes," Modi added.
India will also offer 700 scholarships for the children of plantation community to study both in Sri Lanka and India, he said.
Furthermore, a vocational training centre will also be established. Several projects to improve English language skills, computer literacy and science and technology will also be introduced in schools to benefit the children of estate workers, he added.
In addition to these programs, the Indian PM said a health care program will also be implemented. He hopes that the plantation community will get maximum benefits from such programs, he said.
Modi highly appreciated the courage and strength showed by the people who migrated to Sri Lanka to work in the plantation sector.
He said, "Your community faced so many hardships and challenges for generations. But with an amazing courage you fought for your rights peacefully. India is very proud about your progress and the success."
He also remembered the late minister Savumiamoorthy Thondaman who represented Indian Tamils. The Indian government will never forget his contribution aimed at improving the wellbeing of the Tamil people of Indian origin, he added.
India will always be with the plantation community of the hill country and will assist them to overcome the challenges they face, the Indian PM assured.
Addressing the crowd both President Maithripala Sirisena and Prime Minister Ranil Wickremesinghe said that diplomatic ties between India and Sri Lanka will be much stronger in the future.
Wickremesinge said that the government will offer monetary assistance as best as they can to the plantation workers to build their houses. He hopes that Indian Government will also focus its attention on the matter, he added.
The President said, "As the health minister, I laid the foundation stone for this new ward complex of the district base hospital with the then Indian health minister in 2011.
At that moment all I wanted was the complex to be finished as soon as possible. But I never thought that I would have the chance of opening it with the Indian PM. Also at that time, I never dreamt that I would be the president of the country."
(Source: Ceylon Today – By Methmalie Dissanayake)