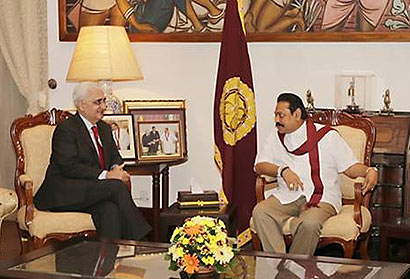 Indian Minister of External Affairs Mr. Salman Khurshid called on President Mahinda Rajapaksa at the President's House this morning. A number of issues of mutual interest were discussed during the meeting with the underlying objective of developing strategies for the two countries to coordinate more closely towards further strengthening relations.
Commenting on the recently-concluded provincial elections in the Northern Province, Mr. Khurshid commended President Rajapaksa's stewardship in holding elections after decades and said he felt it was a very important step for society, one that will likely be viewed as a great historic moment.
On the issue of the implementation of the 13th Amendment, President Rajapaksa stated that "Parliament is the best forum to address the issue," adding that members of the Parliamentary Select Committee (PSC) should engage in dialogue and come up with a solution that is in line with what the people want.
The President and Mr. Khurshid also discussed issues that have arisen between fishermen of the two countries. It was agreed that the best way forward would be to facilitate a dialogue between fishing communities of both countries so that the fishermen themselves can find solutions to their problems. A similar approach was also proposed for the business communities, to enhance interaction where business men and women of Sri Lanka and India can better work together.
The High Commissioner of India in Colombo Mr. Y.K. Sinha accompanied Mr. Khurshid along with several other officers from the Indian External Affairs Ministry and the Indian High Commission.
Minister of External Affairs Prof. G.L. Peiris, Minister of Traditional Industries and Small Enterprise Development Mr. Douglas Devananda, Minister of Power and Energy Mrs. Pavithra Wanniarachchi, Monitoring MP of the Ministry of External Affairs Sajin de Vass Gunawardena, Secretary to the President Mr. Lalith Weeratunga, Secretary to the Ministry of External Affairs Mr. Karunatilaka Amunugama and Sri Lanka's High Commissioner in India Mr. Prasad Kariyawasam were also present.
(Courtesy: President Media)