Indian fishermen issue: Preventive measures for sustainable solution – President
Posted by Editor on February 22, 2011 - 3:58 pm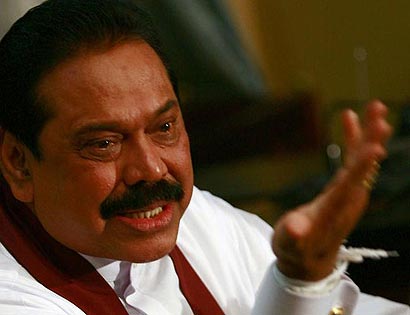 Preventive measures are necessary to find a sustainable solution for the issue of Indian fishermen entering Sri Lankan waters, stated President Mahinda Rajapaksa at a meeting with the editors of government and private media institutes of Sri Lanka, held today (22) at Temple Trees.
He highlighted the need for cooperation from both Indian and Lankan fishermen to resolve this issue and called for more contact between
them.
Minister of External Affairs G L Peiris joining the discussion agreed that preventive measures will help find permanent solutions rather than responsive action.
He also said this was discussed with Indian Foreign Secretary Nirupama Rao when she visited Sri Lanka earlier this month.
President Rajapaksa stressed the need for the Joint Working Group which was set up to resolve this issue to meet as soon as possible to obtain fruitful results as it had not held a meeting for the last five years.
President added that this fishermen's problem is an old issue running back in time due to the proximity of the two countries.
Responding to questions about reports in the Indian media and other sources that fishermen had been killed by Sri Lankan Navy, the President emphasized that such an incident did not take place.
Minister Peiris added that satellite images showed that Sri Lankan Navy vessels were nowhere near the place where the alleged incidents took place.
Courtesy: Government News Portal
Latest Headlines in Sri Lanka