INDIAN RUPEES 100 MILLION WORTH OF HEROIN BOUND TO SRI LANKA SEIZED WITH CARRIERS
Posted by Editor on May 13, 2012 - 12:57 pm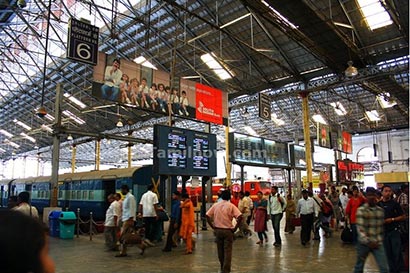 Onlanka News – By Walter Jayawardhana
Indian anti- narcotic detectives  arrested four train passengers including two women and a Sri Lankan Tamil who was waiting outside in a car to receive the contraband, seizing ng more than 100 million Indian Rupees worth of heroin to be sent to Sri Lanka this Friday in Chennai.
The detectives from the Revenue Intelligence in Chennai acting on a tip off that four rail passengers were carrying contraband bound to Sri Lanka were looking out for the passengers coming from Bhopal and intervened them.
On Friday, a DRI press release said, they intercepted Parameshwar, 59, Badhu Lal, 50, Unni Bai, 48, and Rekha, 50, who arrived by the Tamil Nadu Express at the Chennai Central station, each carrying a similar travel bag with a false bottom. Each bag contained 1.6kg of heroin, concealed in polythene bags. All four, who said they were from Mansur district in Madhya Pradesh, confessed to the crime but said they did not know who the consignment was meant for.
Based on the information received form the four, the DRI sleuths later managed to arrest the Sri Lankan national, who was waiting in a car outside the railway station to receive the drug, and seized 4.3 lakh from him. All the five have been remanded in judicial custody. Intelligence officials suspect that the heroin was going to taken to Sri Lanka to be sold.
During the war Liberation Tigers of Tamil were engaged in narcotic smuggling to finance the war.  It is not yet known the political background of the kingpins of this deal.
DRI officials earlier  intercepted four people at Chennai central station, each carrying a similar bag with a false bottom. Each bag contained 1.6 kg of heroin, concealed in polythene bags
Latest Headlines in Sri Lanka