India's position on UN team for Sri Lanka clear: MEA
Posted by Editor on July 12, 2014 - 9:10 am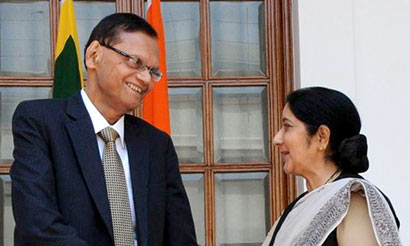 On his third visit to India this year and his first under the Narendra Modi government, Sri Lankan foreign minister G.L. Peiris, discussed with External Affairs minister Sushma Swaraj, the measures Sri Lanka was taking about accountability and reconciliation on the island.
"There was a fairly detailed presentation by Prof. Peiris about the initiatives they are taking for reconciliation and accountability," said ministry of external affairs spokesperson Syed Akbaruddin.
About India's position on the UN sending an investigation team to the Island nation, Mr. Akbaruddin said India had abstained on voting on the matter in the United Nations Human Rights Council in March this year.
"It's not a country specific issue but a matter of principle which we have always held…we feel international bodies need to address human rights through a cooperative framework not (through) a punitive approach," he said.
In June this year, the UNHRC had appointed a three-member investigation panel to probe alleged human rights violations in Sri Lanka.
The panel comprises Nobel laureate and former president of Finland Martti Ahtisaari, former governor-general of New Zealand Silvia Cartwright, and Asma Jahangir, former president of Pakistan's Supreme Court Bar Association.
(The Hindu)
Latest Headlines in Sri Lanka