Indo – Sri Lanka Buddhist Network calls for Govt. of India to support Sri Lanka at UNHCR in Geneva
Posted by Editor on March 21, 2013 - 8:14 pm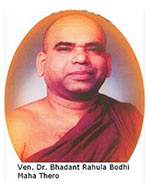 Ven. Dr. Bhadant Rahula Bodhi Maha Thero, Jt. Co – ordinator of the Indo-Sri Lanka Buddhist Network, has issued a statement addressed to Indian Cabinet Ministers and Members of the Lok and Rajya Sabhas stating that at this important juncture ' we should feel that our great India should stand for the unity, solidarity and sovereignty of Sri Lanka by supporting them in their nation building, reconciliation and uniting their people'.
The statement further says that " Some of our (Indian) brothers were trying to break up the united Sri Lanka country in the name of some issues and started pressuring our Indian Central Government to go against Sri Lanka and vote against it in the Geneva International Conference (UNHCR), by helping the demand of breaking up Sri Lanka and disuniting their national sovereignty and integrity . We Indians are always for national integrity, sovereignty, peace and harmony in the region for which our great leader the powerful Prime Minister late Indira Gandhi and another Prime Minister the generous  hearted leader Rajiv Gandhi sacrificed their lives for the national unity and integrity. We should always remember their noble advice and great sacrifice done for the nation".
The statement recalls the unique role that Sri Lanka has played in protecting Buddhism in its very pure form by dedicating and devoting their lives for the noble Dhamma which was introduced to Sri Lanka about 2350 years by the efforts of King Asoka in sending Indian Buddhist missionaries to Sri Lanka.  For the first time the Buddhist Tipitaka  was written on palm leafs  in the first century B.C. in Sri Lanka, and adds:
" Thus we (Indians) are very grateful to them for protecting our Indian Buddhist Cultural and the holy way of life" .
The statement informs the readers that Dr. Babasahab Ambedkar, Indian Buddhist savant and father of the Indian Constitution, will be honoured in Sri Lanka shortly by the installation of a (Ambedkar' s ) full size statue in Colombo and the establishment of an Ambedkar memorial center and cultural Bhavan within an extent of around 2 acres of land in the vicinity of Colombo in memory of the wonderful work done by Dr. Ambedkar together with Anagarika Dharmapala for the revival of Buddhism in India.
The statement further states ' they awakened millions of Indian people and helped them to follow the great spiritual path of love towards humanity, universal peace and harmony; millions of Indian people adopted Buddhism and started walking on the universal peaceful path of noble Dhamma and started practicing loving kindness, as set out in the great teachings of Lord Buddha' .
The statement concludes by stating that the establishment of the Ambedkar mission center and the installation of a full size statue of Dr. Babasahab Ambedkar in Colombo, Sri Lanka  will contribute towards bringing millions people of both countries closer to each other and in turn enhance the social and Dhamma education field.
On February 22, Ven. Rahula Bodhi Maha Thera together with members of an eight member Indian Buddhist delegation met President Mahinda Rajapakse in Kandy.  They arrived in Sri Lanka on February 21 at the invitation of Dr. Lilaknath Weerasinghe, President 'Success Sri Lanka' based in Kandy and its membership, which hosted the delegation during their stay in Kandy and Colombo and accompanied them to Anuradhapura in conjunction with the generous assistance provided mainly by the All Ceylon Buddhist Congress and co – ordinated by the German Dharmaduta Society (in association with the Indo – Sri Lanka Buddhist Network), all of which entities constitute Regional Centres of the World Fellowship of Buddhists (WFB).
During the course of their visit the Indian Buddhist delegation met the Maha Nayaka Theros of the Malwatta and Asgiriya Chapters, Ven. Banagala Upatissa Nayaka Thera, (President, Maha Bodhi Society), Ven. Kirama Wimalajothi Maha Thera ( Director, Buddhist Cultural Centre), Ven. Dr. W. Wimalagnana Thera (Gangaramaya, Peliyagoda), Ven. Medagama Dhammananda (Asgiriya Maha Viharaya), Ven. Getamande Gunananda Thera, Ven. T. Palitha (Nalandaramaya, Nugegoda), Ven. Mettavihari and Ven. Galayaye Piyadassi Thero ( Chief Sanghanayake Thero of the United Kingdom currently on a visit to Sri Lanka), among others.
Upon returning to Mumbai, Ven. Rahula Bodhi had left for New Delhi almost immediately and spent over 13 days in New Delhi lobbying support for Sri Lanka's cause at the UNHCR sessions in Geneva, among leading Indian politicians, parliamentarians and Cabinet Ministers.
Consequently there had been a great awakening among the important segments of Indian society that had been approached by Ven. Rahula Bodhi Maha Thera and his team of twelve Indian Buddhist monks, on the true situation in Sri Lanka, which now enjoys peace and stability after the defeat of terrorism which engulfed the nation for over three decades.
Senaka Weeraratna
Jt. Co-ordinator
Indo – Sri Lanka Buddhist Network
Latest Headlines in Sri Lanka